Is a Foiled-Lined Bag a Burglary Tool under PC 466?
In September 2015, James Shaw (a transgender man who uses James as his first name, but his legal name is Linda Shaw) shoplifted several pairs of jeans from the multi-story flagship Macy's in Union Square in downtown San Francisco.

The Reader's Digest Version: A burglary tool, under Penal Code § 466 (which criminalizes possession of such items) only covers specified tools listed under section 466 or other tools that can be used to break into and enter a store.
An asset protection detective at the store noticed Shaw in the area of the store where high-priced jeans were sold. He saw Shaw grab a stack of jeans from a display shelf and carefully place them in a bag. The asset protection employee then saw Shaw walk quickly and directly for the store exit. It apparently appeared fairly obvious what was going on.
The asset protection employee and another employee quickly followed Shaw and stopped him. Inside his bag were eleven pairs of True Religion jeans inside a secondary bag lined with aluminum foil. At his trial, the asset protection officer explained that the aluminum foil bag was "used by professionals to try to evade the security device at the customer exit / entrance doors" by preventing sensors on the merchandise from setting off alarms.
The jury convicted Shaw of second-degree commercial burglary, felony grand theft and misdemeanor possession of burglary tools. The judge placed him on probation for two years.
Shaw appealed the conviction for possession of burglary tools because Penal Code § 466 covers only "tools or instruments that can be used in the very process of breaking and entering."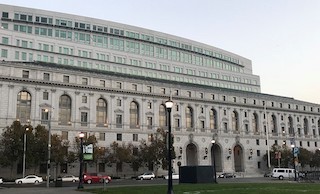 Court of Appeal First Appellate District San Francisco
The First Appellate District, in People v Linda Shaw (2018 DJDAR 11653) agreed with Shaw.
The appellate court pointed out that under Penal Code § 466, the statute identifies certain items as burglary tools, such as "a picklock, crow, keybit, crowbar, screwdriver, vise grip, water pump pliers, slidehammer, slim jim, tension bar, lock pick gun, tubular lock pick, bump key, floor-safe door puller, aster key, ceramic or porcelain spark plug chips or pieces, or other instrument or tool with intent feloniously to break and enter into any building, railroad car, aircraft, or vessel, trailer coach, or vehicle as defined in the Vehicle Code." The tools must be possessed by defendant "with the intent to use the tools for the felonious purposes of breaking and entering." People v. Southard (2007) 152 Cal.App.4th 1079, 1084-1085.
Since a foil-lined bag is not identified specifically as a burglary tool, the issue is whether it can be used to break and enter into property. It is not a tool that is simply used during the course of a burglary. The tool must be for the purpose of breaking, entering or otherwise gaining access to the property. Latex gloves and a large plastic bag, both example, were not burglary tools. People v. Diaz (2012) 207 Cal.App.4th 396, at 399.
This interpretation, moreover, is consistent with the definition of burglary, which is "an entry with intent to commit any felony, not just theft-related offenses. A burglary is complete upon entry with the requisite intent to commit a felony or a theft . . . regardless of whether the felony or theft committed is different from that contemplated at the time of entry." People v. Montoya (1994) 7 Cal.4th 1027, 1041-1042.
Here, there was no evidence that Shaw used the foil-line bag with the intent to gain access to Macy's. Thus, the judgment at the trial court level was reversed. We feel this ruling is good, as prosecutors often confuse a tool used to commit a burglary with a tool that is used to gain access to the property, conceal it or evade store security metal detectors. The definition of a burglary tool is narrow, not broad, and this case serves to remind us of this distinction.
We bring this published decision to the reader's attention because we have seen prosecutors charge our client with possession of burglary tools when the client was found with a tiny razor blade taped to her arm in one case. Our client had used it to cut the tag on the electronic sensor on each item to avoid detection by electronic sensors when walking out of the store, but it was not useful or capable of being used for breaking and entering. Our motion to dismiss this count was successful and, if you are faced with a similar unsupported charge, you should likewise seek its dismissal.
The citation for the First Appellate District Court ruling discussed above is People v Linda Shaw (1st App. Dist., 2017) 18 Cal.App.5th 87.

For more information about , please click on the following articles:
Contact us.