Conviction Reversed for Possessing Burglary Tools (PC 466)
In newspapers or on the Internet, one often reads of someone being arrested and charged with the possession of burglary tools. Perhaps one has even more personal knowledge of such charges.
What to Take Away: Burglary tools are items that can be used to help someone break into a home or building, such as to pry open doors, pick locks or pull up locks to allow entry, not such things as latex gloves or a bag to carry away items.

Rhetorically speaking, just what are "burglary tools?" If one is arrested while attempting to begin a residential burglary and is found to have blue latex gloves and a large black bag, are these "burglary tools?" Is this enough? Does one need to be found with a crow bar or picklock? This question was recently answered by the Fourth Appellate District Court of Appeal in
People v. Marcelina Diaz
(2012 DJDAR 9086 – July 2, 2012).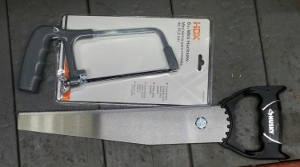 The underlying facts of the case are that on June 29, 2009, an 82 year old lady was sitting in her house one afternoon in Buena Park. She heard her doorbell ringing and saw, through a window, a stranger (Ms. Diaz) ringing it. The elderly lady did not answer her doorbell, as she did not recognize Ms. Diaz. Ms. Diaz rang it at least ten times and then went away.
Diaz then returned to the home several minutes later. The elderly lady watched Diaz climb over a sideyard wall to get into the backyard. The elderly lady then called 911. Diaz then pried open a locked screen door, but then could not open a sliding glass door. She then walked around to the kitchen door and police arrived, arresting her.
Diaz was found to have the blue latex gloves and a large black bag described above. The officers assumed the gloves were meant to cover up Diaz's fingerprints and the bag was for carrying away stolen property from inside the home. Following a trial in Orange County Superior Court, Diaz was convicted. The judge imposed a six year, eight month prison sentence.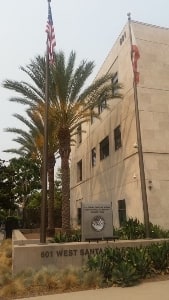 Diaz then appealed her conviction, alleging that the evidence did not support her conviction for possession of burglary tools under Penal Code § 466. Section 466 provides:
Every person having upon him or her in his or her possession a
picklock, crow, keybit, crowbar, screwdriver, vice grip pliers,
water-pump pliers, slidehammer, slim jim, tension bar, lock pick
gun, tubular lock pick, bump key, floor-safe door puller, master
key, ceramic or porcelain spark plug chips or pieces, or other
instrument or tool with feloniously to break or enter into any
building . . . or vehicle . . . is guilty of a misdemeanor.
The Fourth Appellate District court noted for purposes of appeal that when it reviews a lower court conviction for sufficiency of evidence, great deference is accorded to the trial court. The standard is whether any rational trier of fact could have found the essential elements of the crime beyond a reasonable doubt. It must appear that there was no hypothesis whatsoever that there was sufficient evidence to support the verdict.
People v. Kwok
(1998) 63 Cal.App.4th 1236, 1245.
Applying this standard to the lower court's finding, the court relied upon the doctrine of ejusdem generis, "which applies when general terms follow a list of specific items or categories, or visa versa." Under this rule, application of the general term is restricted to those things that are similar to those which are enumerated specifically.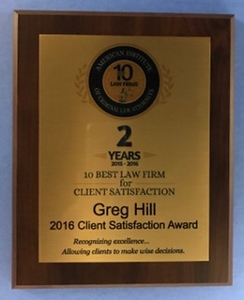 Turning to Penal Code § 466, the Court observed that the specific items listed as burglary tools were keys or key replacements, or tools that can be used to pry open doors, pick locks or pull locks up and out. Therefore, items such as latex gloves and a large bag were not part of such categories.
Consequently, the Appellate Court ruled that Diaz's conviction for possessing burglary tools must be reversed.
Update: The State of California later petitioned for review by the California Supreme Court. This request was denied, so the appellate court ruling stands as the final disposition unless the State of California sought review in federal court on a broader federal issue through the Ninth Circuit Court of Appeals. However, we cannot see any federal law implicated in such a narrow case of statutory interpretation.

For more information about burglary click on the following articles:
Contact Greg Hill & Associates