Is a DUI or a Wet Reckless Possible on a Bicycle? Really?
On April 1, 2013, Jorge Velasquez rode his bicycle to a Dodger game. While at the game, he consumed enough alcohol to raise his blood content to .218%, or almost three times the legal limit.
Brief Synopsis: One can be charged with felony DUI for riding a bicycle while drunk and injuring someone else, as the following case summary exemplifies, although in this case the bicyclist resolved the case for a plea to a violation of Vehicle Code § 23103 ("reckless driving").

As he was riding his bike home downhill, a car pulled in front of him, causing him to veer onto the wrong side of the road and hit pedestrian Sudha Russell. Ms. Russell suffered broken bones in her face, loss of memory and loss of consciousness for ten days. Mr. Velasquez was also knocked unconscious, but regained consciousness much quicker than did Ms. Russell.
Almost three months later, the District Attorney of the Central Criminal Building (CCB), or Clara Shortridge Foltz Courthouse in Downtown Los Angeles, filed a felony complaint against Velasquez for violating Vehicle Code § 23103, reckless driving, and Vehicle Code § 23105(a), reckless driving causing injury.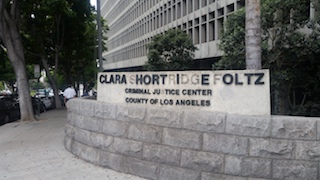 CCB Downtown LA Courthouse
At the preliminary hearing, Ms. Velasquez asked the court to dismiss the complaint because under Vehicle Code § 670, a bicycle is not a vehicle. Section 670 states that a "vehicle" is a "device by which any person or property may be propelled, moved or drawn upon a highway, excepting a device moved exclusively by humor power." Thus, under § 670, a bicycle is not a vehicle because it is moved exclusively by human power. Therefore, he argued, he could not be charged with reckless driving a "vehicle" under Vehicle Code § 23103.
The District Attorney opposed the motion to dismiss based on Vehicle Code § 21200. Section 21200(a) states that "[a] person riding a bicycle… upon a highway has all the rights and is subject to all the provisions applicable to the driver of a vehicle by his division, including, but not limited to, provisions concerning driving under the influence of alcoholic beverages or drugs."
The motion to dismiss by Velasquez was denied by Judge Laura F. Priver. Velasquez then appealed the ruling to the Second Appellate District. In
Jorge Velasquez v. The Superior Court of Los Angeles County
(2014 DJDAR 9391), the court identified the issue for review a whether Vehicle Code § 6700 or § 21200 controlled.
The appellate court noted that in looking at § 21200, the court's obligation is to effectuate the Legislature's intent. It noted that a specific statute prevails over a more general one on the same subject.
People v. Ahmed
(2011) 53 Cal. 4th 156,163;
People v. Calderon
(2013) 214 Cal. App. 4th 656,664-665.
Since § 21200 specifically addresses bicyclists, it is more specific that § 670. It also makes bicyclists like Velasquez subject to all laws, including those related to drunk driving. Furthermore, the Second Appellate District looked to the 1982 amendment to § 21200, which were evaluated by
People v. Fong
(1993) 17 Cal. App. 4th Supp. 1, 3.
Fong
noted that "the clear legislative intent expressed in § 21200 was to make bicycles subject to the same rules of the road as motor vehicles." In
Fong
, for example, a bicyclist was convicted of violations Vehicle Code § 22350, traveling at an unsafe speed.
Velasquez argued also that it would be unfair to subject bicyclists to the same penalties as motorists. He argued this is so because bicyclists "are generally less likely to inflict the carnage and slaughter drivers of motor vehicles can inflict."
To this argument, the Appellate Court responded that the law reflects the varying levels of culpability, as Velasquez argues. For example, section § 21200.5, imposes a lesser sanction of a $250 fine on an intoxicated bicyclist. Sections 23103 and 23105 also create different penalties for reckless drivers, ranging from a fine (§ 23103(c)) to imprisonment for those who proximately cause one or more specified injuries (§ 23105).
Therefore, the appellate court concluded that Velasquez was properly charged with violating § 23103 and § 23105.

The citation for the appellate court ruling discussed above is Jorge Velasquez v. Superior Court (2d App. Dist., 2014) 227 Cal.App.4th 1471, 174 Cal.Rptr.3d 541.

For more information about the limits of DUI convictions, click on the following articles:
Contact
Greg Hill & Associates