Is a Butter Knife a Deadly Weapon? No Says Supreme Court
If one is charged with assault with a deadly weapon, in violation of California Penal Code § 245, and the alleged weapon is not a gun or knife, it is only natural to question what exactly is assault with deadly weapon.

Brief Synopsis: In the context of assault with a deadly weapon, a deadly weapon is any object or instruct capable of and likely to cause death or produce great bodily injury based on the manner in which it is used. In the following case, the California Supreme Court decided a butter knife is not a deadly weapon after the trial court ruled it was.

California courts have considered many different items and found that using a car to drive toward another person can be assault with a deadly weapon. So, can trying to stab someone with a screwdriver. Allowing or encouraging one's Rottweiler to attack another person may be. Our office has seen use of a knitting needle to poke at another as a possible deadly weapon.

What is the general approach towards this? People v. Lochtefeld (2000) 77 Cal.App.4th 533, 538 stated that for purposes of Penal Code § 245, a deadly weapon is "any object, instrument, or weapon which is used in such a manner as to be capable of producing and likely to produce, death or great bodily injury" (internal citations omitted).
This standard was recently tested in a California Supreme Court case, People v. B.M. (2018 DJDAR 12273), wherein a sixteen-year-old girl attempted to attack her sister with a six-inch butter knife with a three-inch "blade." The case arose in Ventura County.
The underlying facts were that in the early morning hours of July 2, 2016, then-sixteen-year-old B.M. returned from a night out and discovered her key to the house did not work. She then realized she was locked outside of her house by her sister, Sophia, who had changed the locks on the home while their parents were out of town.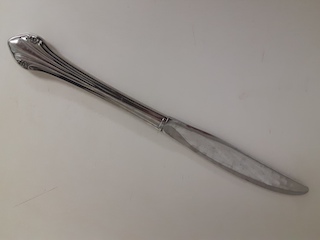 Butter Knife
B.M. climbed into the home through an unlocked window and then attacked Sophia with a metal butter knife. Sophia hid under a blanket while B.M. slashed at her with the butter knife near her feet. There were no stabbing movements, just slashing. A third sister intervened and broke up the tussle and the police were called.
B.M. was then arrested and, in juvenile court, faced a petition alleging felony assault with a deadly weapon in juvenile court. The "deadly weapon" identified was the butter knife.
The petition was sustained and the juvenile court judge, Brian J. Back, found B.M. to be a ward of the court and sentenced her to spend 90 days in juvenile detention. B.M. then appealed the finding, but the appellate court, in October 2017, sided with the juvenile court judge. It found that it did not matter that Sophia was able to fend off great bodily injury with her blanket or that B.M. was not adept at using a knife. What mattered was that B.M. "could have easily inflicted great bodily injury."
B.M. then appealed to the California Supreme Court. The issue seemed to be whether "could have been used" or "likely to cause" was the standard our courts should apply in considering whether an object legally qualified as a deadly weapon.
Justice Goodwin Liu then issued a 21-page unanimous ruling that, for now, seems to clarify and end the debate. Liu disagreed with the prosecution that the gist of what is a deadly weapon depends upon whether it is possible that an instrument or object could be used to cause death or great bodily injury to be a deadly weapon.
Instead, Liu wrote that for an object to qualify as a deadly weapon based on how it was used, "defendant must have used the object in a manner not only capable of producing but also likely to cause death or great bodily injury."
In other words, there are two parts to the analysis. The object or instrument used in an assault must be capable of producing great bodily injury or death, but the manner of its use also must such that that result is likely. Turning to the facts of B.M.'s case, Liu wrote: "Using a butter knife — even one with small ridges on the blade — to make a few slicing motions across the blanket-covered legs of a healthy person is not, under any definition of the word 'likely,' an act that is likely to produce great bodily injury."
We appreciate this ruling because it seems to set new limits on what is assault with a deadly weapon because prosecutors should not allege assault with a deadly weapon with just any instrument used by a defendant without also considering closely the manner in which defendant used the "weapon" and its likely result.
The citation for the California Supreme Court ruling discussed above is People v. B.M. (2018) 6 Cal.3d 528.