Invalid Inventory Search of Car Vacates Conviction.
Officers from the Fairfield police department in Northern California stopped Leroy Wallace, III, for having "false tabs" on his car's license plate. The traffic stop took place during daylight hours, so it is entirely possible that the officer actually had a good faith belief in this reason for a traffic stop. The officer, however, also knew that Wallace was wanted for a domestic violence that had taken place a night or two nights prior.
In a Nutshell: For an inventory search to be valid, police must strictly follow procedures set by their department for such searches. In the following summary, the appellate court ruled the search was improper due to the officer's casual regard for procedures and instead was conducting an illegal, warrantless "fishing expedition" search of the car.

The officers had Wallace exit the car and then handcuffed him. The officers then searched Wallace's person for anything dangerous or illegal.
The two officers then place Wallace in their patrol car and proceeded to search Wallace's vehicle. The officer who testified at trial, in response to perhaps suggestive questioning, testified that there was no one in the area to take custody of defendant's vehicle.
The officer further testified that the Fairfield Police Department has a policy that required officers to have a vehicle towed and inventoried when no one was present to take custody of it. The officer further testified that Wallace was driving his car without a valid license, "so there was [sic] a couple good reasons to get in and search his vehicle: one being inventory search, and one being incident to the arrest . . ."

When the officer then searched the car, he found a 24-inch long wooden bat with red tape on the end where the handle would be.

He then testified that he did not note in his own police report what kind of vehicle defendant was driving "because the vehicle had nothing to do with why I was there." He also testified that he filled out no form concerning the search as to the date, time and location. He then left before ensuring the vehicle was towed at all.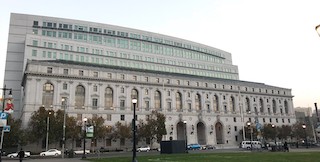 Court of Appeal First Appellate District San Francisco
At trial, the defense then made a motion to suppress evidence of the baton as fruit of an improper inventory search. The motion was denied.

The judge said "we don't have evidence one way or another as to whether or not the inventory search was actually performed, but the decision to conduct it on the car was reasonable."
Wallace then entered a plea bargain to a violation of Penal Code § 22210. The Solano County judge then sentenced Wallace to three years in county jail under Penal Code § 1170(h) (Prop 47). The judge ordered that he served six months in county jail and then be place under mandatory supervision under Penal Code § 1170(h)(5).
Wallace then appealed the denial of his 1538.5 motion to the First Appellate District, which agreed with Wallace that the search was a Fourth Amendment violation because there was not substantial evidence to show that the officer's warrantless search was a valid inventory search pursuant to standardized department procedures.

The First Appellate District, in People v. Leroy Wallace III (2017 DJDAR 8822), then explained that there is an exception to the warrant requirement for an inventory search before police impound it. People v. Williams (1999) 20 Cal.4th 119, 125; see also South Dakota v. Opperman (1976) 428 U.S. 364, 373-374. Inventory searches are typically performed in the course of police impounding a vehicle "in the interests of public safety and as part of . . . community caretaking functions." Opperman, at 368.
The police must then follow routine procedures for three reasons: 1) to protect the car owner's property while it remains in police custody; 2) the protection of claims against police regarding lost or stolen property; and 3) the protection of the police from potential danger. Id. at 369.
However, courts have long-recognized the risk that police "might use the inventory search as a pretext for searching a vehicle for contraband or other evidence." Williams, supra, 20 Cal.4th at 126. It cannot be "a ruse for a general rummaging n order to discover incriminating evidence. . . The individual police officer must not be allowed so much latitude that inventory searches are turned into a purposeful and general means of finding evidence of a crime."
In order to prevent such mischief, police discretion in performing such searches must be "exercised according to standard criteria and on the basis of something other than suspicion or evidence of criminal activity." Colorado v. Bertine (1987) 479 U.S. 367, 375. A valid inventory search must adhere to a preexisting policy or practice. Williams, at 138.
Here, the officer testified that it was standard procedure to fill out a CHP-180 form for the search, but he did not do so. He also did not testify that either he or his partner arranged to have the vehicle impounded. He also admitted that he did not know if the vehicle ever was actually impounded. Finally, he testified that "the vehicle had nothing to do with why I was there" and that he had nothing to do with the traffic stop or the CHP-180 form, if one was ever filled out."
The judgement was consequently reversed and the case was remanded to the trial court to vacate the order denying defendant's motion to suppress and to instead enter an order granting the motion, permit defendant to withdraw his no contest plea and determine if the People decide to re-try the case.

The citation for the First Appellate District Court ruling discussed above is People v. Leroy Wallace III (1st App. Dist., 2017) 15 Cal. App. 5th 82.
For more information about the automobile exception and inventory searches of a car, please click on the following articles: