Intimidating a Witness and the Right to Represent Oneself
In April 2017, in Los Angeles County, Defendant Alejandro C. Torres tried to reconcile with his ex-girlfriend, J.M., calling her more than twenty times. Finally, J.M. agreed to meet with Torres on a street corner in public view in Huntington Park.
Why This Article Matters: A judge will most likely not be found to abuse his or her discretion in terminating a defendant's right to represent himself if the court finds that defendant intimidated a witness in a domestic violence case, as the following summary explains.

Torres was mad that J.M. was dating another person, so he punched her in the face, choked her, cracked a beer bottle over her head and took her cell phone. A witness saw Torres hit J.M. on the head and knock her to the sidewalk. Torres then pulled J.M. up and led her to a nearby alley, where he pushed her up against a wall and hit her in the chest. He then led her down the street, further hitting her.
A bystander called 911 and police quickly arrived. As police were approaching Torres, he dropped a pair of brass knuckles and a small baseball bat to the ground. Torres was then arrested.
From jail, Torres called his mother and confessed to the crime.
After the preliminary hearing in the Norwalk Superior Court, Torres asked to represent himself pursuant to
Faretta v. California
(1975) 422 U.S. 806. Judge Lillian Vega Jacobs granted this request, but issued a protective order precluding any contact by Torres with the victim. Judge Jacobs specifically warned him that his pro per status would be revoked if he attempted to "obstruct the conduct and progress of the trial."
One month later, Torres contacted J.M. through a third party and asked her not to cooperate with the prosecutor.
Judge Jacobs then revoked Torres' pro per status and appointed a public defender to represent him thereafter. Torres appealed this order to the Second Appellate District.
The Second Appellate District reviewed Judge Jacobs' ruling for an abuse of discretion.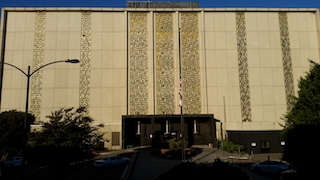 Norwalk Courthouse
The appellate court began its analysis by noting that "one form of serious and obstructionist misconduct is witness intimidation, which by its very nature compromises the fact finding process and constitutes a quintessential 'subversion of the core concept of trial.' . . . A defendant acting as his own attorney has no greater privileges than any member of the bar. He may not dispute proceedings or intimidate witnesses. . . The trial court can stop harassment and abuse of a witness by a threatening defendant and can terminate self-representation by a defendant who engages in serious misconduct. . . When a defendant exploits or manipulates his in propria persona status to engage in such acts, wherever they occur, the trial court does not abuse its discretion in determining he has forfeited the right of continued self-representation."
People v. Carson
(2005) 35 Cal.4th 1, 9; see also
People v. Beccera
(2016) 63 Cal.4th 511.
The appellate court then explained when it could find that a trial court judge had abused his or her discretion. It explained that ""The term judicial discretion implies the absence of arbitrary determination, capricious disposition or whimsical thinking. It imports the exercise of discriminating judgment within the bounds of reason. . . To exercise the power of judicial discretion all the material facts in evidence must be known and considered, together also with the legal principles essential to an informed, intelligent and just decision. . . The appropriate [appellate] test for abuse of discretion is whether the trial court exceeded the bounds of reason."
Estate of Gilkison
(1998) 65 Cal.App.4th 1443, 1448-1449.
The Second Appellate District went further, stating, "A judgment or order of the lower court is presumed correct. All intendments and presumptions are indulged to support it on matters as to which the record is silent, and error must be affirmatively shown."
Gilkison
,
supra
.
The court then went on to describing what is serious and obstructionist misconduct and bluntly held that "[w]itness intimidation in a domestic violence case is just that."
Carson
,
supra
, at 9. A criminal defendant has no constitutional right to intimidate or dissuade a witness. Nothing in
Beccera
,
supra
, required reversal of Judge Jacobs' ruling to revoke Torres' in pro per status and appoint the public defender.
Therefore, the judgment of the trial court was affirmed.

The citation for the ruling discussed above from the California Court of Appeal for the Second District is People v. Alejandro C. Torres (2d App. Dist., 2020) 47 Cal. App. 5th 984, 261 Cal. Rptr. 3d 426.

For more information about intimidating or dissuading a witness and representing oneself in court, please click on the following articles: