Why One Should Not Represent Oneself If Charged with a Crime
At Greg Hill & Associates, we have many people ask us if we think someone can "get by" by representing themselves. Sometimes, the person will comment that they watch Judge Judy a lot or Court TV every day, so they know what to expect. Sometimes, the person will say he or she is a college graduate, so they'd like to just meet with us for an hour or two and do it themselves.
In a Nutshell: Representing oneself can be extremely unwise in many ways, despite the general belief that attorneys are not too smart and our law can be learned by watching television dramas. This article points out some reasons why one should not represent oneself, even if one is an attorney already.

Indeed, nowadays, the practice of law if so ridiculed and criticized that many believe going to law school, passing the Bar exam (which less than 40% pass) and years of experience mean nothing. Many people believe with full confidence that practicing law is really no big deal.
After practicing law for over twenty years, one realizes how valuable experience is to avoiding mistakes, anticipating how a case will progress and presenting a case persuasively. A formal education in the law and passing the Bar exam only gets one to the starting line of experience.
Nonetheless, many believe that representing oneself should be intuitive or self-explanatory.

We offer the following not to promote ourselves, but to illuminate the many practical disadvantages of representing oneself, which is requested by one filling out a Faretta waiver, signing it and submitting it to the judge. The judge can deny one the right to represent oneself if the case is too far along or if the judge determines that the person is incapable of self-representation.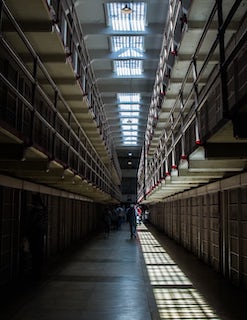 Alcatraz Inside Photo
If one is granted the right to represent oneself, one gives up the right to have a professional attorney explain what crimes one is being charged with and the possible legal defenses one may have to those crimes.
One also gives up the right to have a professional attorney explain how and which charges and sentence enhancements (i.e. prior strike convictions, a gun enhancement, a prison prior, a prior conviction for the same crime, etc.) require a proof of general criminal intent, which charges require proof specific intent, and what state of mind may apply to any defenses that may be available.
The self-represented person gives up the services of a professional attorney to determine what facts must be proved before one can be found guilty, as well as what pre-trial motions and sentencing options, to prepare, file and serve such motion and present such sentencing options to the judge.
If one has a general idea of what to argue, a self-represented person cannot just "wing it." The person must still follow all the requirements of criminal procedure, the laws of evidence and the rules of court. These can take a very smart and experienced attorney many years to master.
Perhaps most important to consider is that the case against the self-represented will be handled by a prosecutor who is an experienced trial attorney and the self-represented party is entitled to zero special consideration or assistance by the prosecutor prior to or during the course of the trial.
During the course of trial, the self-represented party will be required to, without the assistance of anyone, to make required pretrial motions, select a jury according to the rules of court, make an opening statement, cross-examine witnesses for the prosecution, subpoenaing and presenting one's own witnesses, make appropriate objections and motions during the course of trial, then prepare and present proper proposed jury instruction to the judge, make the final argument, and, in the event of a conviction, make appropriate post-trial motions and to represent oneself in sentencing (including making a sentencing brief according to the rules of court).
The judge is not permitted to and will not answer the self-represented person's question concerning how one should proceed or what law may apply or what is the correct procedure to follow.
If one is representing oneself from jail, it will be more difficult to contact witnesses and investigate one's case. That person will have limited access to a phone, which will make trial preparation more difficult. That person will be provided no more access to the law library than anyone inmate and that access is limited. The person must follow Los Angeles Superior Court Rule 8.42, which explains the rules that defendants who act as their own attorney at the jail must follow.
If one changes one's mind and requests an attorney to handle one's case, the judge may deny this request and order that one must continue to proceed to trial without an attorney.

In short, it is something one should think about carefully. Even as someone with over twenty years of experience in criminal cases and trials, having handled thousands of cases and having an education from a top law school, I would not opt to represent myself. It would be unwise.
For more information about self-representation and public defender issues, please click on the following articles:
Contact us.