What Is a Marsden Motion? What Happens If It Is Granted?
Anyone who is represented by a public defender or an alternate public defender may at one point believe that the attorney is not doing enough or fighting hard enough. This feeling is not unique to those represented by appointed counsel, as it also certainly happens when represented even by private counsel.
In a Nutshell: A Marsden motion is a request by a defendant that the judge appoint another attorney (usually another public defender or alternate public defender) because defendant believes that his or her Sixth Amendment right to effective counsel is being violated in some way. Such motions are often patiently endured by a judge. The courtroom will be cleared for such a motion and then defendant can complain about his or her public defender to the judge.

The next step if one is represented by a private attorney is to simply fire him or her and substitute in new counsel or ask to represent oneself. See Faretta v. California (1975) 422 U.S. 806, 45 L.Ed.2d 562, 95 S.Ct. 2525.
A person defended by an attorney appointed by the State of California, however, cannot fire the attorney, but can ask the judge to remove the attorney (a public defender or alternate public defender) and appoint another attorney if the defendant's Constitutional (Sixth Amendment) right to effective counsel is jeopardized by the existing representation or they have such an irreconcilable conflict in their relationship that ineffective representation is likely to result. This right was established People v. Marsden (1970) 2 Cal.3d 118, 123, 84 Cal.Rptr. 156; see also People v. Smith (1993) 6 Cal.4th 684, 25 Cal.Rptr.2d 122. The defendant may also choose to hire private counsel, but must then pay for such representation.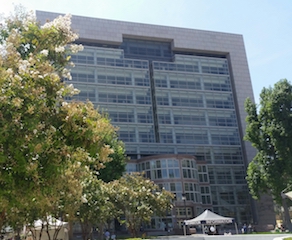 Van Nuys Courthouse
Underlying such a right is the Sixth Amendment's guarantee that a criminal defendant is entitled to counsel at all crucial stages of a criminal proceeding when his or her substantial rights may be affected. See U.S. Const., amend VI; California Penal Code §§ 686, 859, 987; Gideon v. Wainwright (1963) 372 U.S. 335, 9 L.Ed. 2d 799, 83 S.Ct. 792. However, the right to counsel is not unlimited and it is not a right to counsel of his or her choice.
The hearing on such a request to remove the attorney is calling a "Marsden Hearing." The courtroom is then cleared of everyone except the judge, the court reporter, the defendant, appointed counsel and the courtroom staff. To protect defendant's interest in confidentiality during any inquiry by the judge of defendant, defense counsel should move to exclude the prosecutor from the Marsden hearing. People v. Madrid (1985) 168 Cal.App.3d 14, 19, 213 Cal.Rptr. 813. This is because both work product and attorney-client privileged material may be disclosed during a Marsden hearing.
The judge may not simply deny the motion without listening to the defendant describe the circumstances underlying the request. The judge must question the defendant and usually the attorney in order to rule on the motion. A ruling cannot be based on the judge's personal confidence in the attorney, observations of the attorney's previous courtroom conduct, or ex parte communications with other participants. People v. Hill (1983) 148 Cal.App.3d 744, 753, 196 Cal.Rptr. 382.
It merits mention that it is insufficient grounds to discharge appointed counsel if defense counsel had only seen defendant once. People v. Silva (1988) 45 Cal.3d 604, 247 Cal.Rptr. 573. It is also insufficient if defense counsel did not bring certain motions that defendant wanted brought. Id. Lastly, it is not sufficient grounds to discharge if defense counsel did not make certain arguments at a motion to suppress. People v. Carr (1972) 8 Cal.3d 287, 104 Cal.Rptr. 705.
It merits mention that in 99% of the cases where such a request is made, it is made by the defendant. However, in certain circumstances, the judge can dismiss appointed counsel on its own. People v. McKenzie (1983) 34 Cal.3d 616, 630, 194 Cal.Rptr. 462.
After the hearing, defense counsel should have the judge order that the transcript be sealed and given to the judge's clerk or have the court order that it not be transcribed until appeal.
For more information about issues with representation by an attorney, please click on the following articles:
Contact us.