What Is a Gray-Area Faretta Request to Represent Oneself?
Why This Article Matters: A "gray-area" Faretta request to represent oneself at trial is a request wherein defendant but is not competent to represent oneself, so the judge must deny the request.

Gregory Yusuke Shiga went to trial in the Pomona Superior Court over charges related to his allegedly setting fire to the St. John Vianney Catholic Church in Hacienda Heights. The fire spread to the rectory where priests were sleeping.
Mr. Shiga was arrested and charged with aggravated arson (Penal Code § 451.5(a)), arson of a structure (§ 451(c)), possession of flammable material (§ 453(a)), second degree burglary (§459) and arson of an inhabited structure (§ 451(b)).
During trial, Mr. Shiga represented himself. He made no opening statement or closing argument. He did not cross-examine most of the witnesses. His questions to those witnesses he did cross-examine elicited no evidence relevant or favorable to his defense. He rested without presenting any defense to the charges.
The jury found Mr. Shiga guilty of all five counts and found true all special allegations. He was sentenced to an aggregate term of fifteen years to life in state prison.
A big issue throughout the proceedings was whether Mr. Shiga was competent to stand trial. Before the preliminary hearing, his case was referred to Department 95 (the Los Angeles County Mental Health Court) to determine his competency to stand trial.
While defendant's case was in 95, the judge appointed Dr. Stone to prepare an in-depth report on Defendant's competency. A year earlier, Mr. Shiga had been in the court's lock-up facility while being held in custody for an unrelated misdemeanor charge. He was then reviewed by Department 95 at that time, too, for his mental competency. At that time, he was found competent to stand trial.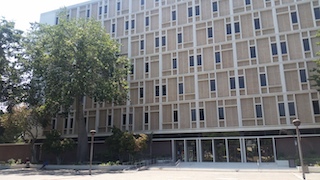 Pomona Courthouse
In the present arson use, Dr. Stone evaluated Mr. Shiga and found he was no longer mentally competent to stand trial. The prosecutor then requested that the court appoint a second doctor to evaluate Mr. Shiga's mental competency. The prosecutor asked that the judge appoint Dr. Knapke, which the judge did. Dr. Knapke then examined Mr. Shiga and (surprise, surprise) concluded Mr. Shiga was mentally competent to stand trial. The judge (Thomas C. Falls) then found defendant was competent to stand trial.
During trial, a possible defense for Mr. Shiga was that he had a mental condition at the time that prevented him from forming the necessary premeditation and deliberation. Indeed, two years before the alleged arson, he had been under the care and treatment of a psychiatrist who had diagnosed him with "schizophrenia and delusions."
Before trial started, however, then defense counsel asked for a continuance of the trial to retain a mental health expert to investigate various defenses. The judge granted a 50-day continuance and Mr. Shiga objected, stating, "Right now, ask for pro per. Right now, I would like to go pro per, your Honor." Mr. Shiga also stated he did not want to waive time to allow any continuance of the date to start trial.
Mr. Shiga then filled out an advisement and waiver of rights to counsel under
Faretta
.
Later the same day, another judge heard Mr. Shiga's request to represent himself. The judge advised him that he would be foolish to represent himself and it could be a "total disaster." The judge also explained that the prosecutor had thousands of pages of additional reports to give over, but needed time to redact them before turning them over. The judge explained that if trial were to start immediately, Mr. Shiga would go to trial without such discovery. Mr. Shiga said he understood and said he would "love to" go to trial immediately.
At that point, the judge decided to conduct a "mini-
Marsden
" hearing, but in discussing the performance of defense counsel with Mr. Shiga, he had Mr. Shiga agree that he was not claiming ineffective assistance of counsel.
The prosecutor then returned to the courtroom (she was ordered out during the
Marsden
hearing) and suggested the judge refer Mr. Shiga for a further psychiatric evaluation under
Edwards
to see if Shiga was competent to represent himself.
Indiana v. Edwards
(2008) 554 U.S. 164. 128 S. Ct. 2379, 171 L. Ed. 2d 345).
The court then granted Shiga's
Faretta
motion, allowing him to represent himself because the judge thought he had no discretion to deny it, if Shiga wanted to represent himself.
Shiga ironically then appealed his conviction, saying the judge made an error in letting him represent himself. The Second Appellate District in
People v. Gregory Yusuke Shiga
, (2016 DJDAR 11766) agreed with Shiga that when a person elects to represent himself, but is not mentally competent to do so, the court may deny the
Faretta
motion.
Edwards
, supra. Such a situation is called a "gray-area"
Faretta
motion.
Here, the appellate court found the trial judge seemed to be unaware of a "gray-area"
Faretta
motion such as Mr. Shiga presented, so the appellate court reversed the verdict and set the case back to the trial court in Pomona to reconsider the
Faretta
motion in light of
Edwards
.
The citation for the Second Appellate District Court ruling discussed above is People v. Gregory Yusuke Shiga (2d App. Dist., 2016) 6 Cal.App.5th 22.
For more information about the Sixth Amendment right to counsel, please click on the following articles:
Contact us.