Inglewood Police Department & Unlawful Inventory Search?
In a Nutshell: An inventory search of a car is only lawful when police strictly follow department procedures, as the following appellate court ruling summarized below concerning the Inglewood Police Department describes.

In 2017, Inglewood Police Officers Mark Robinson and Tyler Villcana were on patrol in Inglewood in response to a surge in gang activity in one area within the city. It was about 11:00 p.m.
They were driving down an alley when they spotted a black Infiniti parked, but with its engine running and its brake lights illuminated as if the driver had his foot on the brakes. The vehicle was parked in an area that made it in violation of Inglewood Municipal Code § 3-50. The vehicle also had dealer-issued plates, not permanent plates, in violation of California Vehicle Code § 5200(a).

Villcana then activated the Inglewood Police cruiser's flashing lights and sirens to handle this illegally parked car. D.R., a passenger in the vehicle, then opened a door and stood outside the car. D.R. told Officer Villcana that he was on parole.

As Villcana was talking to D.R., Officer Robinson approached the driver of the Infiniti, John Christopher Magdirila. Magdirila admitted that he did not have a driver's license and explained that the car belonged to a friend. Officer Robinson then decided to impound the vehicle.
Robinson then searched the glove compartment of the car and found a bag of what he believed was crystal methamphetamine. Robinson asked Magdirila who the crystal meth belonged to and Magdirila admitted it was his. Robinson then arrested Magdirila on suspicion of violating Health and Safety Code § 11377(a). Counterfeit money was also found in the car, causing the case to be filed in federal court.
Robinson prepared an itemized inventory of the items found on a CHP 180 form, as he tried to perform the search of the car as an inventory search. Robinson did not fill out the form correctly, but made an effort. He cross-referenced the police report of the arrest, which listed additional items found in the car, such an iPhone / Apple watch, which the CHP 180 form did not list.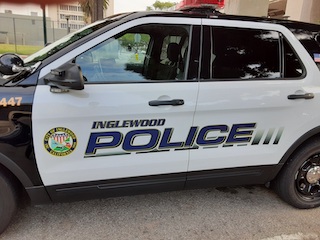 Inglewood PD Car
Magdirila filed a motion to suppress the evidence found, as he claimed it was an invalid inventory search. He argued that there was no need to do anything more than issue him a parking ticket and a warning about the paper plates. The District Court (the case was filed in federal court) denied the motion and Magdirila was later sentenced by the judge to 41 months in federal prison.

Magdirila then appealed the ruling to the Ninth Circuit Court of Appeals in Pasadena. The Ninth Circuit explained that it reviewed the denial of a motion to suppress de novo. See United States v. Tan Duc Nguyen (9th Cir., 2012) 673 F.3d 1259, 1264. The district court's factual findings are reviewed for clear error. See United States v. Barnes (9th Cir. 2018) 895 F.3d 1194, 1199.

The court then noted that inventory searches that deviate from department policies can be invalid, "but minor noncompliance with department policies does not invalidate an otherwise lawful inventory search." United States v. Garay (9th Cir., 2019) 938 F.3d 1108, 1112. However, a search conducted pursuant to a regulatory scheme is invalid if the officer's sole purpose is investigatory. United States v. Orozco (9th Cir., 2017) 858 F.3d 1204, 1210. If, however, the officer's purpose is administrative, the inventory search is valid. United States v. Johnson (9th Cir., 2018) 889 F.3d 1120, 1126.
"Importantly, the mere presence of a criminal investigatory motive or a dual motive – one valid and one impermissible – does not render an administrative stop or search invalid; instead, [the Court] ask[s] whether the challenged search or seizure would . . . have occurred in the absence of an impermissible reason." Id.
Here, the officer's failure to precisely follow Section 510.4 of the Inglewood Police Department policy, in an of itself, did not make the inventory search invalid. Officer Villcana complied substantially with Section 510.4, but his failure to precisely comply does not render the search invalid. So the district court's ruling to deny the motion to suppress was affirmed.
We present this summary of a federal case within the Ninth Circuit to show how the federal standard on a motion to suppress items found in an inventory search that may have seemed like a fishing expedition is more lenient to officers than California's standard, it seems.

The citation for the United States Ninth Circuit Court of Appeals ruling discussed above is United States v. John Christopher Magdirila (9th Cir., 2020) 962 F. 3d 1152.

For more information about inventory searches, please click on the following articles: