Inglewood, Indecent Exposure, Plea to 647(a), No 290 Reg.
Our client, age 26, was driving to work one morning. He was stuck in rush hour traffic on the westbound 105 Freeway. He was looking at his cell phone and decided to watch a pornographic movie while driving.
In a Nutshell: Indecent exposure (Penal Code § 314) on freeway; Inglewood Superior Court, case resolved for disorderly conduct (Penal Code § 647(a)), no jail and no sex offender registration.

Our client was seated in a normal sedan, meaning anyone in an SUV or truck nearby would be able to see down into his car quite easily.
After watching the movie for a few minutes, he decided to masturbate while driving and continuing to hold his cell phone to continue the movie. He was aware of the surrounding cars, so he used a towel to cover his waist area.
The movement of his hand, however, left little doubt as to what he was doing. A female motorist next to him looked over and was astonished to see what she recognized as someone masturbating. She was driving another sedan, so she was at the same level as our client and could not see the towel.
She used her cellphone to call the California Highway Patrol. She reported the license plate number of the client's car and described our client's conduct. The license plate was from out of state, so it was easy for the CHP to spot it from afar and find our client.
The CHP needed only about five minutes to find our client. Our client admitted what he was doing, but explained that he had used a towel to cover himself. He even showed the CHP officer the towel. The client was very apologetic and embarrassed.
The CHP Officer did not seem to care too much about the towel. The female offender was angry. The CHP Officer therefore issued a pink ticket to our client, writing "Lewd conduct in a public place. Penal Code § 314(1)."
The client then continued on to work, confused about what to do next, but happy he was not arrested.
He did a little research online and learned that Penal Code § 314(1) was also known as indecent exposure, which meant he faced a misdemeanor, but with punishment that included an obligation to register as a sex offender under Penal Code § 290 for life.
The client then called Greg Hill & Associates and met with Greg Hill. The client explained what happened and said he had no idea how he was stopped or who called the police to report him.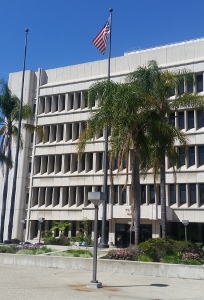 Inglewood Superior Courthouse
Greg then appeared at the arraignment in the Inglewood Superior Court and received the complaint, which charged him with one count of indecent exposure. The initial offer involved three years of summary probation, a $500 fine plus penalties and assessments (about $2,400 total), ten days of community service, a 52 week sexual compulsiveness counseling class and a duty to register as a sex offender for life under Penal Code § 290.
Greg then looked at the police report with the client and realized that the entire mention of the towel was omitted from the report. The police also reported that our client was staring at the female caller and got eye contact with her, which was totally false, but no doubt added to justify the traffic stop and ticket.
Greg realized that the ticket seemed to describe lewd conduct, Penal Code § 647(a), not indecent exposure. Most importantly, the police report did not even state that the female caller saw our client's genitals, which is required for a conviction for committing indecent exposure. The police officer even wrote "lewd conduct," but then inexplicably wrote the Penal Code section for indecent exposure.
Greg showed this to the Inglewood District Attorney, who agreed and decided to amend the complaint to allege a violation of Penal Code § 647(a) instead. This meant that the requirement to register as a sex offender would be dropped and the fine would be reduced from $500 plus penalties and assessments to $300 with penalties and assessments. The client would still have to attend the 52 sexual compulsiveness classes, but he was greatly relieved to avoid becoming a registered sex offender.
The client then did enter a plea bargain to a violation of Penal Code § 647(a) on the above terms.
For more information about the issues in this case summary, click on the following articles:
Watch our Sex Offense Video by clicking
here
.
Contact us.