Inglewood, Felony Domestic Violence Reduced to Misdemeanor
Our client, age 26 and with no prior criminal history for violence, was charged with felony domestic violence (Penal Code § 273.5) to his long-time, live-in girlfriend, also 26.
Police took pictures of the girlfriend's arms, which showed bruises, allegedly by when our client pushed her to the ground. Our client also allegedly punched his girlfriend in the nose, causing her nose to bleed.
In a Nutshell: Inglewood, reduction of felony domestic violence charge to misdemeanor disturbing the peace.

When the girlfriend received the battering, she said to him, "I'm going to the police." Our client said, "fine, let's go." The altercation had arose over a dispute wherein the girlfriend was nagging our client about his drinking. Our client was currently also facing prosecution for a second DUI within ten years, so he was under a great deal of stress.
As the two were exiting their apartment, the girlfriend realized that she had forgotten her keys and the couple were locked out of their apartment complex. The girlfriend then used her cell phone to call her mother to transport her to the police station. Our client opted to stay back at the apartment at this point.
The mother arrived and took her daughter home, where she slept for the night instead of visiting the police. In the morning, however, the mother and daughter visited the police. In the meantime, our client moved out to live with his brother and father.
The police never spoke to our client. Instead, they forwarded their report to the District Attorney's office, which filed a felony complaint. When the DA's office attempted to give our client notice of the charges being filed, they could not find our client.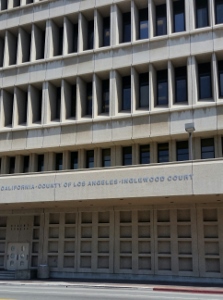 Inglewood Superior Courthouse
Instead, they simply arraigned him in absentia and due to his absence, a bench warrant for $20,000 was issued, along with bail being set at $50,000.
Approximately two months later, our client learned through his employer that there was an outstanding warrant for his arrest. He came to Greg Hill & Associates in a panic, unsure what to do. Greg Hill first listened to the facts of the case and secured a declaration from the girlfriend stating that her injuries were caused by our client defending himself from her and that she was not desirous of prosecution.
Our office put the client in contact with a bail bond company and arranged for a bond to be posted, should bail not be exonerated upon our appearance in court. A day or two later, Greg Hill appeared with the client in court. Greg had a lengthy discussion of the case facts with the District Attorney assigned to the case, explaining how our client's conduct was largely attributable to alcohol and his girlfriend's nagging. It was explained that our client was already taking three AA classes per week to address the alcohol issue and that the reason the complaint was not served on our client was because he had moved from the apartment where he used to cohabitate with his girlfriend.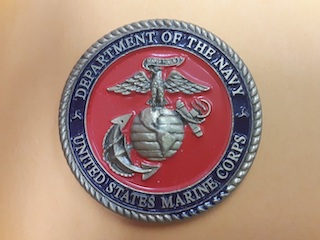 The District Attorney, a former Marine like Greg Hill, seemed satisfied that the conduct at issue would not be repeated. He and Greg continued to chat about their time in the Marine Corps. The prosecutor then offered to lower the charges from felony domestic violence to misdemeanor disturbing the peace (Penal Code § 415), conditioned upon our client's payment of a $190 fine and completion of 52 Batterer's Program classes. The offer included two years of summary probation.
Our client was quite pleased with such a fortuitous offer, which he accepted. Bail therefore, was not an issue, as the case was resolved and there were no more court appearances for the client to appear for. It was a good day.
If you or a family member has been charged with felony or misdemeanor Domestic Violence, Battery or Assault, call our office today. One of our criminal defense attorneys will speak with you immediately and will fight vigorously for you.
Don't risk losing your employment or your reputation. Call us today at (310) 782-2500 for your free consultation. We are available 24 hours a day, 7 days a week to help you.
When payment is an issue, we have very competitive flat fee rates to represent you or your family member. In special circumstances, we will also consider payment plans where payments are spread out over time. We also accept all major credit cards.
For more information about, click on the following articles:
Watch our Video about Domestic Violence by clicking
here
.