Inglewood, Carrying a Loaded Firearm in a Car, Dismissed
Our client, age 34, was dating a man who liked to carry a gun with him no matter where he went, "for protection." He was a felon who had served time in prison, so it was against the law for him to do this, but he did so nonetheless. Our client, in contrast, had no prior criminal history.
One evening in mid-February, our client and her boyfriend were driving northbound on North La Brea when suddenly, police arrived from behind with flashing lights and the too-familiar pink and blue overhead lights and a siren. Our client's boyfriend took his pistol and put it in our client's purse as he pulled the car over.
Police did not state the reason for the traffic stop, but demanded to search the vehicle most likely because our client's boyfriend seemed nervous and "the totality of the circumstances" led them to believe there was a crime afoot.
Such a hunch was found correct when police inspected the contents of our client's purse and found the loaded handgun, which was not registered to our client, suggesting it was stolen.

Our client looked at her boyfriend who glared back at her as she was arrested. She knew she would face far more severe consequences from him if she explained to the police that the handgun was his rather than taking the blame for it herself. He kept staring at our client as she was handcuffed and loaded into the police car.
Our client "kept her mouth shut." She never explained that the handgun was not her own. Police released her on $10,000 bond after advising her that the District Attorney probably would charge her with violating Penal Code § 25850 (carrying a loaded firearm in public or in a vehicle) and /or Penal Code § 25400(a)(3) (carrying a concealed weapon). Both charges were misdemeanors. She signed a promise to appear in the Inglewood Superior Court in April, or about two months later.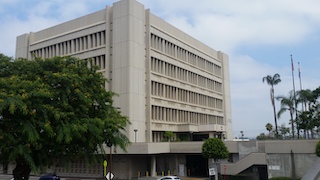 Inglewood Superior Court
In April, she went to court, but no case had been filed. She was quite happy with this, but understood that she needed documentation for her bail bondsman to prove she went to court as promised. So she wisely went to the criminal clerks' office on the second floor and received a Proof of Appearance with an official court stamp, date and time, with her name on it showing she had appeared.
In the meantime, the owner of the gun had been calling her and our client refused to answer his calls. He texted her repeatedly and even showed up at her apartment, but our client refused to speak to him. His repeated attempts at contacting her were in fact, stalking, so our client moved to Texas to get away from him.
About three months after our client moved to Texas, the Inglewood District Attorneys filed charges against our client. The District Attorney's Office sent our client a letter advising her of this, but the post office did not forward it to her in Texas according to the change of address our client filed with the post office (she did receive plenty of other mail through this method, however).
Finally, one day she was advised by her employer in Texas that there was an outstanding bench warrant for her out of the Inglewood Courthouse. It had been over a year at this point since she left California to get away from her ex-felon boyfriend.
The client then called Greg Hill & Associates to ask what she could do. Greg listened to the client describe the basic facts of her case and how she had appeared in court, as promised, but no case was filed.

Greg then explained that because the case was a misdemeanor and more than a whole year had passed since her arrest without her being arraigned, her right to a speedy trial under the Sixth Amendment (made applicable to the states through the Eleventh Amendment) was an issue. There was presumed prejudice to her under Serna v. Superior Court (1985) 40 Cal.3d 239, so Greg could file a "Serna Motion" to request that the judge dismiss the case due to such a constitutional violation and prejudice to her. The client was quite happy to know about this surprisingly good news.
Greg Hill & Associates then prepared, filed and served the motion. At the hearing on the motion at the Inglewood Superior Court, the judge struggled with whether our client's move out of state meant the presumed prejudice had been rebutted, or nullified. After all, the People could not be responsible for chasing someone all around the United States (or the world) to arraign someone. Likewise, they had sent a letter to the last known address for our client.
However, Greg explained that the "we mailed a letter" argument or issue was only an issue in civil cases under the "Mailbox Rule," but this did not apply in criminal cases.
The judge agreed and granted the motion, which made our client very happy.
For more information about issues, please click on the following articles: