Convicted Twice for Once Carrying Concealed Firearm?
It is a quite common situation for police to pull over a driver or find someone sleeping in a car, or just sitting in a parked car and find a firearm, often loaded, in the car. Sometimes, the firearm is in plain view. Other times, the driver will let the officer know there is a firearm in the car.

Having such a firearm in a vehicle can be legal, but often it is not. Our office has defended those caught in this situation many times.
The Gist of this Article: An overzealous prosecutor may charge multiple violations of different laws for a single form of conduct. If defendant is convicted of such overlapping charges, it is incumbent on the judge to strike or vacate those convictions that punish defendant more than once for a single act.

There are a series of overlapping laws that make it a crime to carry a loaded firearm in a car, especially if the firearm is not registered to the driver (i.e., it is stolen) and if the driver is prohibited from possessing a firearm. Our legislature has recognized, in cumulative laws, that guns, especially loaded guns, can be a danger to the public.
Sometimes, an overzealous prosecutor may change a multitude of such redundant crimes, but a judge must then strike those convictions that are duplicative.

Sometimes, this is not properly done, as the following case from Yolo County exemplifies.
Woodland police officers responded to an early morning 911 call of a man sleeping in a car. Police found the man and searched the car, finding a .45 caliber handgun in a holster under a sweater on the driver's seat. The gun was loaded and stolen. The man, Sean Michael Duffy, also had a controlled substance in his possession, burglary tools and was a felon, so he was barred from possessing a firearm.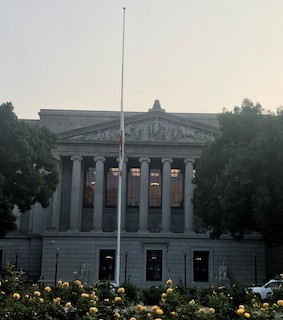 Court of Appeal Third Appellate District Sacramento
The Yolo County District Attorney's Office filed a very comprehensive criminal complaint, throwing the proverbial "kitchen sink" against Duffy, alleging the following counts:
Possession of a controlled substance while armed with a loaded firearm (Health & Safety Code § 11370.1, a felony);
Possession of a firearm by a felon;
Possession of ammunition by a felon;
Carrying a concealed firearm on his person after a felony conviction (Penal Code § 25400);
Carrying a concealed firearm in a vehicle when the firearm is stolen (Penal Code § 25400);
Carrying a concealed firearm in a vehicle when the firearm is loaded and the person is not the registered owner (Penal Code § 25400);
Receiving stolen property (the gun) (Penal Code § 496);
Possession of a controlled substance (Health & Safety Code § 11350); and

Possession of burglary tools (Penal Code § 466).

It was further alleged that defendant committed these offenses while on bail in another case and that he had served three prison priors (Penal Code § 667.5(b) (which has since been modified in the Penal Code by SB 136 to only apply to registered sex offenders, which defendant was not)).
A jury found defendant guilty of counts two through seven, but not guilty on counts one, eight and nine. The jury also found the three prison prior enhancements true and the on-bail enhancement not true.
Mr. Duffy then appealed his convictions, arguing that the 667.5(b) sentence enhancement did not apply and that three of the convictions (for counts 4, 5 and 6) describe alternate ways of committing the same offense – possession of a concealed firearm in a vehicle – and thus are not separate offenses – and thus two of the three offenses must be stricken.
On appeal to the Third Appellate District, the People conceded that the 667.5(b) sentencing enhancements did not apply to Duffy, so the analysis was limited in scope to whether counts 4, 5 and 6 are duplicative or redundant and thus punishing him for each of these convictions violated Penal Code § 654, which "does not permit multiple convictions for a different statement of the same offense when it is based on the same act or course of conduct." People v. Vidana (2016) 1 Cal. 5th 632, 650.
As the Third Appellate District framed the issue, the question was whether the Legislature, in drafting Penal Code § 25400, "meant to define only one offense, can we turn it into two?" The focus should be on "a plain and commonsense meaning" being given to the statute. People v. Gonzalez (2014) 60 Cal.4th 533, 537.
In analyzing the text of 25400, the Third Appellate District determined that this section was meant to criminalize one offense, not more than one. Therefore, it ordered the trial court to vacate the convictions for counts four and six, but sustain the conviction for count five.
We offer this summary to the reader because this minefield of cumulative counts is not uncommon, so it is good to know what an appellate court has decided should be deleted.

The citation for the Third Appellate District Court ruling discussed above is People v. Sean Michael Duffy (3rd App. Dist., 2020) 51 Cal. App. 5th 257, 265 Cal. Rptr. 3d 59.
For more information about double jeopardy and possession of a loaded firearm, please click on the following articles: