Ineffective Assistance of Counsel (IAC) But No Prejudice?
The following case arises out of Nevada case, but defendant's petition for writ of habeas corpus based on ineffective assistance of counsel (IAC) made its way to the U.S. Ninth Circuit Court of Appeal, which interpreted defendant's federal claims, making this case relevant to similar federal claims arising in California.
To understand the significance of the ruling, that denied defendant's petition despite finding ineffective assistance of counsel because the sub-standard performance was harmless, one must understand the basic facts of the case.
The Gist of this Article: An important second requirement of establishing an ineffective assistance of counsel (IAC) claim is showing that but for the ineffective assistance of counsel, the outcome of the case would have been different. Sometimes, as the following summary exemplifies, the IAC did not prejudice defendant because the outcome would have been the same even without IAC.

In 1992, a Nevada jury convicted Joseph Weldon Smith of three counts of first degree murder with use of a deadly weapon for beating and strangling his wife and his two step-daughters. This took place in Henderson, Nevada. The jury also convicted Smith of attempting to murder Frank Allen with the use of a deadly weapon. Allen owned the home the Smith family was renting.
For the murder of his wife and one of his step-daughters, he was sentenced to death. For the murder of his other step-daughter, he was sentenced to life in prison without the possibility of parole.
Smith appealed his convictions and sentences. The Nevada Supreme Court affirmed the convictions, but reversed the death sentences and remanded for a new penalty hearing.

After a second penalty hearing in 1994, Smith was again sentenced to death as he originally was. Smith again appealed and the Supreme Court again vacated the death sentence for one of the murders, but affirmed it for the other murder.
Smith then filed two successive petitions for habeas corpus relief in state court. In the second petition, he brought up an ineffective assistance of counsel claim for the first time and the Nevada state court ruled that it was procedurally barred because it was not raised in the first petition.
Smith then filed a pro per habeas petition in the federal district court. The State of Nevada filed a motion to dismiss, which was granted in part and denied in part, granting a certificate of appealability for him to the U.S. Ninth Circuit Court of Appeals that his ineffective assistance of counsel (IAC) claim should be excused pursuant to Martinez v. Ryan (2012) 566 U.S. 1.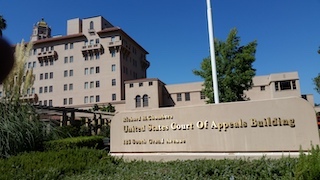 U.S. 9th Circuit Court of Appeals Pasadena
The U.S. Ninth Circuit Court of Appeals then addressed the IAC claim that the federal district court seemed to suggest was appealable. Smith's federal habeas petition asserted that in his second penalty phase, his lawyers were ineffective for failing to investigate, develop, or present mitigation evidence.

The Ninth Circuit then reviewed whether Martinez, supra, should be applied to Smith to excuse his procedural error. Martinez allows the procedural default of a claim to be excused under specific circumstances. Id., at 17. To show cause for excusing a procedural default, Martinez requires that a petitioner show the state system in which he initially brought his IAC claim required that the claim be raised in initial review collateral proceedings, and that the state did not permit the petitioner to raise the claim on direct appeal. Runningeagle v. Ryan (9th Cir., 2016) 825 F.3d 970, 973.
A petitioner must further show that the attorney who represented him in state post-conviction proceedings performed deficiently and thereby prejudiced his case under the standard set forth in Strickland v. Washington (1984) 466 U.S. 668, Runningeagle, Id.

As the reader of this article may be aware, Strickland is a two-prong standard. With respect to the first Strickland prong, deficient performance is performance that falls "below an objective standard of reasonableness" and is outside of the range of competence demanded of attorneys in criminal cases. Strickland, 466 U.S. at 687-88 (quoting McMann v. Richardson (1970) 397 U.S. 759, 771).
The objective measure of counsel's performance is determined by looking at the "reasonableness under prevailing professional norms." Id. at 688. Professional norms are measured at the time of counsel's actions rather than by reference to modern norms. See Cullen v. Pinholster (2011) 563 U.S. 170, 196. This assessment is made "from counsel's perspective at the time," so as "to eliminate the distorting effects of hindsight." Strickland, at 689. We "defer to a lawyer's strategic trial choices, [but] those choices must have been made after counsel conducted reasonable investigation or [made] a reasonable decision that made particular investigations unnecessary." Summerlin v. Schriro (9th Cir., 2005) 427 F.3d 623, 630 (quoting Strickland, at 691).
During the second penalty phase hearing, counsel for Smith, Donald York, did not arrange or request a mental health evaluation of Smith. However, he acknowledged in a 2007 declaration filed with Smith's federal habeas petition, that Smith was "an interesting case, psychologically," and that when he first met Smith, Evans "wanted to do a complete psychological work up on him." Evans admitted that he "did not press the issue" because Smith declined to submit to testing and Evans "wasn't confident that he would get anything he could use from an evaluation anyways."
The Ninth Circuit found this to be ineffective assistance of counsel for just not trying at all.
The second prong of Strickland is that "there is a reasonable probability that, but for counsel's unprofessional errors, the result of the proceeding would have been different." Strickland, at 688, 694. As to this issue, the Ninth Circuit agreed with the state that even if Smith had been diagnosed with delusions as a result of a mixed personality disorder, this evidence would have paled in comparison to his vicious attacks on his wife and step-daughters.
Thus, the IAC was harmless and the denial of Smith's federal petition for writ of habeas corpus was affirmed.
The citation for the U.S. Ninth Circuit Court of Appeals discussed above is Joseph Weldon Smith v. Renee Baker (9th Cir., 2021) 960 F. 3d 522.

For more information about ineffective assistance of counsel (IAC), please click on the following articles: