Indecent Exposure, Lynwood, Compton Court, Diversion
Our client, age 38, was going through a tough patch in his life. He was working hard toward an executive MBA while working full-time and supporting his wife, who had a rare illness that meant the two would never have children.
Our client had a prior felony conviction for assault with a deadly weapon not a firearm (Penal Code § 245(a)(1)) arising over a fight in a restaurant (a Denny's) fifteen years ago and a DUI six years earlier, so he was not unfamiliar with our criminal justice system and how it can ruin lives. He had spent eight days in county jail before and had been on five years of formal probation.
One day, while returning home to Compton from work and with no MBA classes to attend, he ventured northbound on Long Beach Boulevard in Lynwood. This can be an area frequented by prostitutes.
At the corner of Long Beach Boulevard and Euclid, he noticed one particular Hispanic woman standing alongside the road. She was wearing jean shorts, a white blouse and had frizzy hair. She looked thin, but in a fit way, or not from drugs. Her skin looked healthy, too.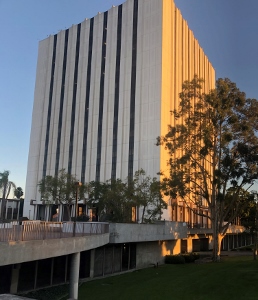 This particular woman was a police officer posing as a prostitute as part of a Compton Sheriff's human trafficking task force.
Our client did not know she was a police officer. He drove toward her and, while doing so, pulled down his pants to expose his penis. He then pulled alongside the curb near her and she approached the passenger side window, which he rolled down. He said to her, "What's up baby?" She looked inside at him and asked him what he wanted.
Holding his penis in his hand, he said "Head." She looked down at his penis, which he was shaking around, and responded, "well, we are not getting started quite yet." He then asked her "How much?" She said, "Twenty dollars" and he said, "Fine." She then directed him to pull into the parking lot by Circle H Donuts to get off the main street, presumably where she would then get in his car to have a "car date."
Once he entered the parking lot for the donut shop, police surrounded his car and asked him to get out. His pants were still down on his hips and he was forced to step outside the car, at which point he was handcuffed.

Police then searched his car and found his driver's license and wrote up his name and date of birth, driver's license and the date of the arrest on a white dry erase blackboard. Then then had the police decoy hold the blackboard next to our client and they took a photograph of him standing alongside the decoy holding the blackboard with the client in handcuffs.
The client was then taken to the Century Regional Detention Center and processed before being released several hours later.
Our client had some explaining to do with his wife and this was much more painful than the arrest.
Later, the client called Greg Hill & Associates and spoke with Greg about what had happened. He explained how he had stopped to talk with a person he thought was a prostitute and how he was later arrested.
The client never explained to Greg how he had pulled down his pants to expose himself to the police officer. Greg believed the case was a solicitation of prostitution (Penal Code § 647(b)) case and so he explained to the client how he expected the case to be handled. The client also told Greg that he had no prior criminal history, so Greg believed the case might be eligible for an office hearing, as prior prostitution cases in the last several years in Compton had been referred to office hearings.
So, it was with no small surprise that Greg appeared at the arraignment to find a complaint against our client alleging indecent exposure (Penal Code 314(1)), although a misdemeanor, and solicitation of prostitution. Greg was equally shocked to see that our client had a prior conviction for a felony and a prior DUI.
Nonetheless, Greg requested an office hearing for our client, hoping that perhaps the District Attorney handing the case would not look at the case too deeply and would think of the case as more of a prostitution case than a case of indecent exposure, which carries with it an obligation to register as a sex offender for life.
Surprisingly, after putting over the arraignment twice, the DA advised Greg that he could not offer the case to an office hearing, but he could offer formal diversion. The client would have to enter a plea to the solicitation charge, then entry of judgement would be delayed for a year, during which time our client had to perform five days of approved community service and take an AIDS prevention class and blood test for HIV / AIDS.
Neither Greg nor the client could believe the good luck. Our client happily accepted the diversion offer, extremely grateful that Greg had pushed for the impossible and the prosecutor had looked into the case facts with empathy.

For more information about indecent exposure, please click on the following articles:
Contact us.