In Kidnapping, Is Movement of Victim 190 Feet Enough?
The crime of kidnapping, to some, evokes an image of Patty Hearst or Elizabeth Smart, both highly publicized kidnapping cases wherein the victim was held for an extended period of time and moved over great distances. In the case of Ms. Smart, she was fourteen years old at the time and Ms. Hearst, while an adult at age 19, both were young. To others, kidnapping is a crime that regularly takes place in Central and South America and ransoms are often paid.
The Gist of this Article: In proving movement for purposes of kidnapping, if defendant moves the victim 190 feet, that is sufficient evidence of "substantial distance" for the jury to find movement of the victim, especially for how that movement changed the circumstances for the victim.

Under California law, kidnapping is defined at Penal Code § 207, which defines it as "forcibly, or by any other means of instilling fear, stealing or taking or holding, detaining or arresting a person and carrying that person or a child a substantial distance for an illegal purpose or for an illegal intent."

This definition was put to the test by Andrew Newman in a case arising out of an incident in 2016.
In 2013, Mr. Newman began dating H, then a high school junior. Six months into the relationship, Newman began physically abusing H.

As found by the Second Appellate District in its summary of events, "the abuse continued almost every day until the relationship ended in 2016."
The Second Appellate District explained, "Newman hit H with a metal pole as punishment for 'anything [she] did bad.' In one instance, Newman hit H with the pole because she 'folded a shirt that needed to be hung.' The pole left scars. Newman also scarred H's stomach by pinching her hard. Newman held H's head underwater in a tub. She 'forgot what [she] had done wrong' to Newman to punish her this way. Newman once punched her face over 11 times because he though she said something wrong."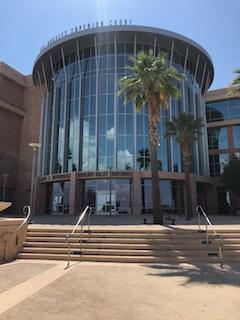 Lancaster Courthouse
On March 6, 2017, a loud crash woke H from slumber in her bed. Newman broke into her locked room and pointed a gun at her chest. H was scared and screamed for help, but no one else was at home. Newman said he had "nothing else to lose" and told her to go to his car.

Newman pointed the gun at her as she got out of bed and went to the front door, which was 20 to 30 feet away.
As H opened the door, Newman got in front of her and told her to start running. H ran about 35 feet from the front door to the entry gate as slowly as she could. The car was parked about 550 feet from the front door. Newman turned around three times and told her to run faster.

H ran another 135 feet and then, thinking she would die if she got into the car with him, ran instead into a neighbor's house through the back door, which was unlocked.

Once inside, H screamed "He has a gun. He has a gun. He's going to kill me." Neighbors called the police. Newman turned himself in to the police the next day.
Newman pushed the case to trial, which took place in Lancaster. The jury convicted him of first-degree burglary, assault with a firearm and kidnapping. Judge Kathleen Blanchard sentenced Newman to fifteen years in state prison.
Newman appealed the jury's verdict on the issue of whether his alleged kidnapping involved movement of H that was "substantial in character" People v. Martinez (1999) 20 Cal.4th 225, 235. He claimed the distance he forced H to move was "short" and therefore insubstantial.
The Second Appellate District, Division Eight (in Los Angeles), disagreed quite strongly in People v. Andrew Newman (2019 DJDAR 9153). It began by characterizing the evidence as "ample" that the movement was substantial, as Newman literally broke into H's bedroom first. He then pointed a gun at H as she got out of bed and walked to the home's front door. He then made H run to his car.
Adding up the distances that Newman made H move, it was at least 190 feet, the Second Appellate District court found.
The court then found that 190 feet is not an insubstantial distance, especially under the circumstances and cited to other cases where significantly shorter distances were found to be "substantial." See People v. Arias (2011) 193 Cal.App.4th 1428, 1435-1436 (moving a person fifteen feet into his apartment met the asportation requirement); People v. Shadden (2001) 93 Cal.App.4th 164, 168-169 (moving victim nine feet from the front to the back of a store was substantial). Here, moving H from her bedroom, out of the house and making her run toward a car was certainly substantial. Newman's appeal was therefore denied.
We present this case summary to show that "substantial movement" is really quite short, but that it matters as to the change in circumstances that the movement creates. Nine feet in Shadden was enough when it was from the front to the back of a store, but ninety feet would not be enough if it was in the middle of an empty field, or along a road where the movement did not significantly help the defendant or give him or her some advantage to commit a separate crime.
The citation for the Second Appellate District Court ruling discussed above is People v. Andrew Newman (2d App. Dist., 2019) 40 Cal.App.5th 68.