Smuggling Someone to the U.S. Can Be Kidnapping for Ransom
There is a general rule, based on the Eighth Amendment rule against double jeopardy, that convictions on both a greater offense and a lesser included offense are prohibited. This happens when all the requirements of one more serious offense satisfy another less serious offense or offenses.
Brief of Article: Those Accused of Smuggling Illegal Immigrants to the U.S., Charged with Kidnapping for Ransom, Can Also Be Charged with Attempted Extortion and False Imprisonment.

However, what can happen is two minor offenses, put together, can satisfy the elements of one greater offense. If the jury finds defendant not guilty of the greater offense, the same jury can possibly find defendant guilty of the lesser included offenses.
The California Supreme Court case against Reynaldo Eid and Alaor Oliveira exemplified this legal situation. This short article is presented to educate the reader of this problem because, as the case below illustrates, a lengthy sentence can still result after the relief of a not guilty verdict is rendered on the more serious charge.
In 2005, Junior Reynaldo Eid and Alaor Oliveira picked up Ana Ribiero and her son, Iago, after they were smuggled from Brazil to Mexico and then across the Mexican border into the U.S. Eid and Oliveria then took Ribiero and her son to a Costa Mesa Travelodge, at which time Eid called Ribiero's husband. Eid demanded $14,000 to release the Ribieros. Mr. Ribiero had previously agreed to pay $18,000 to have his wife and son smuggled to the United States, but had already paid almost the full $18,000.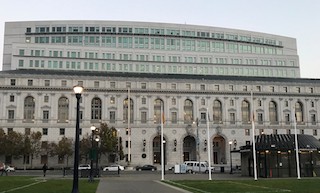 California Supreme Court San Francisco
Ana's husband offered to pay $1,000 per month. Eid did not like this offer, so he and Oliveria threatened to take Ana and her child to New York to work off the debt. This could be kidnapping for ransom, which is punishable by life in prison.
In response to the $1,000 per month offer, Eid hung up the phone and told Ana that she and her son could not leave the motel. Ana believed she was next going to be transported to New York.
Ana then telephoned a friend who lived nearby the motel. The friend came to the motel and told Eid that she was there to pick up Ana and her child. Eid told the women that she could not take Ana under her child and slammed the door.
This women called the police, who quickly came to the scene. Eid tried to leave the motel with Ana and her child, but police blocked their escape.
The District Attorney in Orange County charged Eid and Oliveria with kidnapping for ransom, as well as the lesser included offenses of attempted extortion and misdemeanor false imprisonment. The jury found defendants not guilty of kidnapping for ransom, but guilty of the lesser included offenses.. The judge sentenced each defendant to the maximum period of four years and six months. Each defendant already had been in custody for six years at that point, but were not released because each had a federal immigration hold.
Defendants appealed their convictions, arguing they could not be convicted of two lesser included offenses of a single greater offense. The court of appeal agreed and struck defendant's convictions for misdemeanor false imprisonment. The prosecutor then appealed to the California Supreme Court.
The California Supreme Court, in
People v. Reynaldo Junior Eid
(2014 DJDAR 9065), distilled the question before it to whether "a jury may convict on more than one uncharged lesser included offense of a single greater offense." The court also pointed out that this case was somewhat unusual because attempted extortion and misdemeanor false imprisonment were not included offenses of the other.
Penal Code § 1159 provides that "[t]he jury . . . may find the defendant guilty of any offense, the commission of which is necessarily included in that with which he is charged . . ." Consequently, the real issue was whether "any offense" means just one other charge or more than one charge. The California Supreme Court then noted that under Penal Code § 954 allows a defendant to be convicted of multiple offenses arising out of a single act.
Consequently, the original verdict convicting defendants of two lesser included offenses was determined to be proper and the court of appeal was reversed.
The citation for the California Supreme Court ruling discussed above is People v. Eid (2014) 59 Cal.4th 650, 174 Cal.Rptr.3d 82, 328 P.3d 69.
For more information about kidnapping, click on the following articles:
Kidnapping for Prostitution (Penal Code § 267) Conviction Affirmed Although Minor No Longer Lived Regularly at Home
Contact
Greg Hill & Associates