In Domestic Violence, May Victim Recover Security Expenses?
Under Penal Code § 1202.4(f)(3)(J), a judge may award residential security expenses "incurred related to a violent felony, as defined in subdivision (c) of Section 667.5." Penal Code § 667.5(c) defines "violent felony" as any offense or category of offenses therein specified. The list includes murder, rape, arson, various sex offenses and any felony committed while using a gun, as well as many others.
Summary in 50 Words or Less: A restitution order in a domestic violence case may not include payment of $14,055.48 for a wife's installation of a security and alarm system after the husband, from prison, sent his wife a Valentine's Day card telling her he was going to kill her. The reason was because domestic violence is not considered a violent felony under Penal Code § 667.5(c).

In September, 2015, Steven Salas and his wife were drinking beer in their home's garage. Salas became angry with his wife, grabbed her throat and bashed head against the floor. The wife lost consciousness, suffered a cracked skull, sustained multiple contusions and lacerations throughout her body and lost four to five pints of blood. She later received seven staples in her head.
Salas was subsequently charged with felony domestic violence (Penal Code § 273.5(a)) and false imprisonment by violence (Penal Code § 236). The People initially alleged a great bodily injury enhancement (Penal Code § 12022.7(e)), but eventually dismissed the enhancement and the false imprisonment claim.
Salas pleaded no contest to violating § 273.5(a) and was sentenced to three years in state prison. Salas' plea did not include a
Harvey
wavier, which would have allowed the judge to consider uncharged offenses in sentencing. At sentencing, the Imperial County judge hearing the matter heard testimony from Salas' wife that after the incident, Salas sent her a Valentine's Day card saying he was going to kill her. He also sent threatening e-mails and made threatening phone calls from jail. She said she was afraid it was him or his agent whenever someone knocked on the door, or whenever she saw cars idling across the street from her house.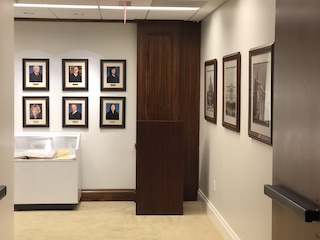 Fourth Appellate District Court of Appeal Division 1 San Diego
To address her fears from these threats, she spent $14,055.48 for new security measures for her home. After hearing this testimony, the trial court ordered "full and complete restitution" paid to the wife at a later restitution hearing.

At that hearing, Salas conceded certain expenses, but contested restitution for the security system and alarm system. He argued that he should not have to pay such security expenses because he was not convicted of a "violent felony," as required by section 1202.4(f)(3)(J) and as defined in section 667.5(c). The prosecutor did not contest the restriction in allowable restitution for violent felonies, but the trial court judge ordered victim restitution in the amount of $17,194.45, which included $14,055.48 for the security windows and alarm system.

The judge acknowledged that Penal Code § 273.5(a) does not constitute a statutory "violent felony," but concluded that the probation report clearly showed Salas' conduct caused the wife to suffer great bodily injury as defined in § 12022.7.

Salas appealed the restitution award to the Fourth Appellate District. In People v. Steven Paul Salas (2017 DJDAR 2333), the Fourth Appellate District agreed with Salas and modified the judgment accordingly.

The reason this appellate decision is brought to the reader's attention is because we find there is often a misunderstanding by our clients about what restitution is recoverable in a criminal case.

Indeed, there are some general principles of restitution stated in statutes that can be misleading. For example, Penal Code § 1202.4(f) provides that "in every case in which a victim has suffered economic loss as a result of the defendant's conduct, the court shall require that the defendant make restitution to the victim or victims in an amount established by court order, based on the amount of loss claimed by the victim or victims or any other showing to the court."

Subsection (f)(3) further provides in pertinent part, "the restitution order . . . shall be of a dollar amount that is sufficient to fully reimburse the victim or victims for every determined loss incurred as a result of defendant's criminal conduct, including but not limited to . . . compensation for stolen or damaged property, medical expenses, mental health counseling expenses, lost wages or profits, noneconomic losses, attorney fees and moving expenses (Penal Code § 1202.4(f)(3)(A) – (L)).

As such provisions suggest a judge can award a full spectrum of expenses, it is understandable why victims seek restitution for things such as a security system (and perhaps why the judge here awarded such expenses).

However, certain types of expenses, such as pain and suffering some are not recoverable except in special types of cases (sex offenses). Likewise, only victims of violent felonies, as defined under Penal Code § 667.5(c), may recover the expenses of security systems.

Here, Penal Code § 273.5(a) is not a statutorily defined "violent felony," so Mr. Sala's wife could not recover security expenses in this case.

The citation for the Fourth Appellate District Court ruling discussed above is People v. Steven Paul Salas (4th App. Dist., 2017) 9 Cal.App.5th 736, 214 Cal.Rptr. 3d 885.
For more information about domestic violence and restitution issues, please click on the following articles:
Contact us.