Immigration Holds and the California TRUST Act.
As the reader of this article may be experiencing, he or she has a family member in custody that is not a U.S. citizen and that family member faces deportation proceedings. The reader may fear that the person will be subject to an "ICE Hold" and remain in custody in a purgatory that has no expiration date. The person may also be aware that when there is an "ICE Hold," an immigration bond is unavailable.
Why This Article Matters: The California TRUST Act prohibits federal immigration authorities from holding a person more than 48 hour unless certain conditions are met. To read more about these conditions and the TRUST Act, please read the article below.

It should come as some comfort to the reader, then, to know that on October 5, 2013, then­ Governor Jerry Brown signed the TRUST Act into law, codifying it at Government Code §§ 7282-7282.5. The new law prohibits law enforcement from detaining a person in custody, because that person is subject to an immigration hold or immigration detainer (effectively a new arrest) for more than 48 hours base the time the individual is eligible for release from criminal custody unless certain statutorily enumerated conditions are met. This new law, in other words, limited or, some may say, stopped state cooperation with federal Immigration and Customs Enforcement (ICE) officials in deportation proceedings.
Such conditions include that the person was convicted of a statutorily enumerated crime (including drug trafficking, criminal street gang crimes or child abuse) or a judge has made a probable cause finding that the person committed a qualifying felony (Government Code§ 7282.S(a)). It also allows detention for people with a number of higher-level misdemeanor ("wobbler") convictions within the past 5 years, and for certain federal criminal offenses that meet the definition of aggravated felony in 8 U.S.C . § 110l (a)(43)( A)-(P), inclusive.
The local law enforcement agency may also continue to detain the individual if he or she is a current registrant on the California Sex or Arson Registry, or has been identified by the U.S. Department of Homeland Security' s Immigration and Customs Enforcement as the subject of an outstanding federal felony arrest warrant.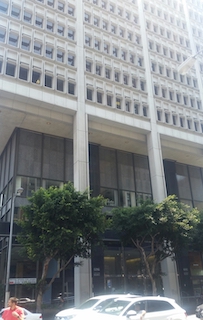 Immigration Court Downtown
The convictions that disqualify an individual for consideration under the TRUST Act include the following (Government Code § 7282.S(a)):
Serious or violent offenses listed in Penal Code§§ l192.7.(c) or 667.S(c) (this includes any offense committed in another state that, if committed in California, would be punishable as a serious felony as defined by 1192.7.(c) or a violent felony under 667.S(c));
Felony offenses punishable by imprisonment in the state prison; or
Felony convictions for offenses enumerated in Government Code§ 7282.5(a)(3), which is extensive.

A person who is "eligible for release from custody" means that the individual may be released from custody because one of the following conditions has occurred:
All criminal charges against the individual have been dropped or dismissed ;
The individual has been acquitted of all criminal charges filed against him or her; The individual has served all the time required for his or her sentence;
The individual has posted a bond; or
The individual is otherwise eligible for release under state or local law, or local policy.

Since the California TRUST Act was passed, federal law on "ICE Holds" has become less deferential to federal authorities. For example, in Galarza v. Szaalczyk (3d Cir., 2014) 745 F.3d 634, at 640, the Third Circuit of the U.S. Court of Appeals held that "immigration detainers are requests and not mandatory orders" and noted that "all federal agencies and departments have an interest in the matter have consistently described such detainers as requests." See Immigration Law Criminal Justice and Immigration Enforcement - California Limits Local Entities' Compliance with Immigration and Customs Enforcement Detainer Requests - TRUST Act, 127 Harv L Rev 2593, 2596-2597 (2014) ("And even if ICE wanted to make detainer enforcement mandatory, prevailing Tenth Amendment jurisprudence - which prohibits 'commanding the States' officers, or those of their political subdivisions, to administer or enforce a federal regulatory program' - indicates that it could not do so. States are thus free to decide for themselves whether to limit - or even prohibit - the enforcement of detainers").

It should be emphasized that this comment from the Harvard Law Review pertains to the Third Circuit, which does not include California.

We present this article to let those having loved ones in custody better understand the law pertaining to "ICE Holds," which previously was quite unregulated and prone to abuse.
For more information about immigration issues, please click on the following articles: