Illegal for Police to Use Doctor to Get Drugs From Rectum?
On March 13, 2044, Pomona Police Officer Greg Freeman and his partner observed Clifford George and another man standing in the front courtyard of an apartment complex in an area well-known as a hangout for gang members and drug dealers.
Condensed Version: Fourth Amendment Violated When Pomona Police Induce Doctor to Forcibly Remove Plastic Baggie with Cocaine from Arrestee's Rectum.

Officer Freeman and his partner got out of their police cruiser and approached Mr. George, who started to run, as if he was going to flee. Freeman ordered George to stop. George stopped and, in response to Freeman's questions, stated that he was on parole for armed robbery.
Freeman and his two partners then conducted a parole search of George's apartment and found a .380–caliber pistol. Freeman then arrested George for being a felon in possession of a firearm, a parole violation most certainly.
Freeman and his partner then took George to the "strip tank" for a strip search. When Freeman asked George to turn around, after removing his clothes, George immediately started shaking and fell to the ground as if he was having a seizure.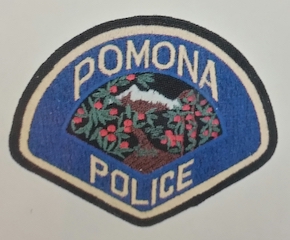 Pomona PD Patch
The police report stated that, "when he was on the ground with his right hand he reached under his body and started pushing his finger in his anus attempting to conceal an item, of what appeared to be some plastic baggie. Due to my training and experience in the field of narcotics, myself and Corporal Johnson believed it was a bag of cocaine."
Offer Freeman then summoned paramedics, although Freeman testified that he believed George was faking having a seizure to cover up his attempt to conceal a plastic baggie of cocaine base in his anal cavity." Another officer who witnessed George cavorting on the floor testified that he did not think there was anything wrong with Mr. George.
Once at the hospital, George was placed on a gurney and restrained with straps. Dr. Thomas Edholm then visited Mr. George, who police described as "may have swallowed drugs. We need it out now." Dr. Edholm then asked the police more questions and learned that George may have a plastic baggie with drugs in his rectum.
The officers then held Mr. George down and the doctor put on a glove. The doctor then stuck his fingers into Mr. George's anus. Mr. George testified that it hurt. However, the doctor was unable to find anything. The police officers became frustrated, so the doctor used some clamps and opened up George's anus further enough to insert an anoscope. At this point, Mr. George was yelling and saying, "no!"
The police and Dr. Edholm then saw a golf ball–sized baggie filled with a white material.
Dr. Edholm then removed the baggie with long forceps and gave it to the officer. The baggie was intact and held 8.99 grams of cocaine.
Mr. George later sued the police in a civil action, alleging that the officers, Dr. Edholm and two nurses violated his civil rights under 42 U.S.C. § 1983 by violating his Fourth Amendment rights based on, among other things, his treatment at the hospital.
The district court granted summary judgment in favor of defendants and dismissed George's action. George then appealed to the United States Court of Appeals for the Ninth Circuit.
This appeals court, in
Clifford George v. Thomas W. Edholm
(2014 DJDAR 6622), reversed. It was a victory for Mr. George.
The reasoning is what should interest the reader of this article although the case is a civil one and not criminal.
The court made it clear from the outset that, as a private citizen, Dr. Edholm's conduct ordinarily would not be attributable to the state. See
Burnette v. Humane Socy of Ventura Cnty.
(9th Cir. 2002) 294 F. 3d 1205, 1209. However, when "there is such a close nexus between the state actor and the challenged action, "the challenged action can be attributed to the state. This can happen when a state actor, such as police, promotes or encourages a private party to perform searches they otherwise would not otherwise perform. See
United States v. Reed
(9th Cir.,1994) 15 F. 3d 928, 932-33.
Here, the court found that a jury could conclude that officers Freeman and Johnson gave false information about Mr. George's medical condition to induce Edholm to perform an invasive search. There was evidence that Freeman and Johnson knew that George did not have a seizure. They also did not believe he was high on cocaine.
Making matters worse, the court found that Dr. Edholm knew by his medical training that Mr. George was not under the influence of cocaine, but he acted as if the officers were more reliable instead. He then had the officers hold George's legs so he could extract the plastic baggie. Dr. Edholm thus acted as a police agent.
The next question was whether the search was nevertheless reasonable. The seminal case in this regard is
Rochin v. California
(1952) 342 U.S. 165, wherein police entered Robin's house and saw him swallow two capsules of morphine. Officers then rushed Rochin to the hospital and ordered doctors to pump his stomach, which the doctor did. Rochin then vomited up the capsules, which the prosecution used as evidence at trial. The court held that the forced stomach-pumping "shocked the conscience" and was "too close to the rack and screw" to survive constitutional scrutiny.
Turning to Mr. George, the court found that "the intrusion upon his dignity interests in personal privacy and bodily integrity was extreme." The search was thus not reasonable. Consequently, it did violate the Fourth Amendment, even if Mr. George was indeed trying to destroy or hide evidence.
In addition, Dr. Edholm inserted a tube into George's nose, ran the tube into George's stomach, and pumped a gallon of liquid laxative through George's bowels. George did not consent to this either.
Moreover, the court found no qualified immunity protected the officers or Dr. Edholm because the officers used false statements to induce Dr. Edholm to act and Dr. Edholm realized they were false, but proceeded anyways.
Summary judgment was thus reversed and the case was sent back to the trial court to continue. The case certainly probably will quickly resolve with a settlement in Mr. Green's favor.
The citation for the Ninth Circuit ruling discussed above is Clifford George v. Thomas W. Edholm (9th Cir., 2014) 752 F.3d 1206.
For more information about search and seizure, click on the following articles: