If There Is a Romeo and Juliet Law in California, What Is It?
In many states in the United States, there is an exemption from statutory rape criminal liability if the two parties involved are close in age, not married and have sex based upon mutual consent. Often, they are boyfriend and girlfriend and willingly engage in sexual intercourse. One may be above the age of consent and one may be younger than the age of consent.
Why This Article Matters: There is no "Romeo and Juliet Law" in California, however, statutory rape in California can be punished as a misdemeanor, not a felony, when defendant is less than three years older than the victim and no force, threat of force or violence, is involved.
In some states, the law covers other forms of illegal sexual conduct as well. In such states with this exemption, it applies if the two parties are not married and within two years of age from another; in others it is three years. This absolute defense is often called a "Romeo and Juliet Law" in reference to the youthful lovers in Shakespeare's famous play "Romeo and Juliet."
California, however, has no such law. Therefore, in California, if a male and a female, either being below the age of consent (age 18), engage in consensual intercourse in California, the party over 18 can be charged with statutory rape of the other in violation of Penal Code § 261.5(a). The age of consent varies by state (i.e. it is sixteen in Nevada, Arizona, Washington, Montana, Michigan, Wisconsin and many others; it is seventeen in Texas, New Jersey, Louisiana, Mississippi and many others).
Theoretically, if both are below the age of 18 in California, each could be charged with the statutory rape of the other, although this is rarely done.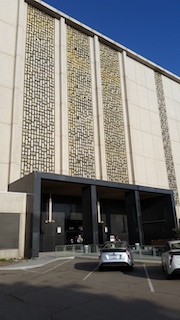 Norwalk Courthouse
When the conduct is less than statutory rape, i.e. just consensual touching of sexual areas of the body, it is extremely rare for any prosecution to proceed. When the conduct is more aberrant, i.e. sodomy or oral copulation (Penal Code § 288a), prosecution is more likely. It should be noted that the law is exceedingly tough when the victim is less than 14 years of age, especially when the other party is more than ten years older (Penal Code § 289).

When one party is below the age of 18 and the other party is more than 18, the older participant would face statutory rape charges under Penal Code § 261.5(a). This can be a felony or a misdemeanor. It the two parties are within three years of age, the statutory rape charge is a misdemeanor (Penal Code § 261.5(b). If one person is over 21 years old and the other, often the female is under sixteen years of age, the charge of statutory rape can be a felony or a misdemeanor (Penal Code § 261.5(d)), depending upon the facts of the case and the defendant's criminal history.

If convicted of statutory rape as a felony, defendant can face up to eight years in state prison prior to any sentencing enhancements being applied. Defendant may also have to register as a sexual offender for life under Penal Code § 290, although in 2021 this registration requirement will change (under Senate Bill 384) for some offenders based on the facts of the case.
When any sex crime case is defended, the stakes are high as punishment for sex offenses is consecutive in nature, not concurrent, so sentences add up by the convictions suffered. The sum may be very high. Thus, we recommend if you or a loved one is charged with any type of sex offense, the best thing to do is retain an experienced criminal defense attorney who has handled dozens of sex cases in the courthouse where your case is venued.
We present this article because we have been asked about the "Romeo and Juliet Law" over and over. Like "The OJ Law" (that some cops claim exists in domestic violence) there is no such law in California, although in other states there are laws that are called the Romeo and Juliet Law.
For more information about underage sex, please click on the following articles:
Contact us.