What Is Annoying or Molesting a Child Under 18 (PC 647.6)?
If you, a family member or a good friend has been charged with violating Penal Code § 647.6, annoying or molesting a child under 18, you probably feel some anxiety. What conduct could lead to such a charge and what evidence must a prosecutor present to convict? What is the punishment? Is it a felony? What are the defenses? Is the "victim's" credibility evaluated?
Brief Synopsis: Annoying or molesting a child under 18 (a violation of Penal Code § 647.6) is conduct based on "an abnormal or unnatural sexual interest in a child." It can be charged as a misdemeanor or a felony, with a maximum prison time of three years before any enhancements apply. The worst punishment, however, is that a conviction of this crime requires registration for life under Penal Code § 290 as a sex offender. Consent from the minor is not a defense.

Annoying or bothering a child is illegal if motivated by an "abnormal or unnatural sexual interest" in the child, defined as someone under 18 years old.
To prove this, the prosecution must first establish that the conduct was directed at the child instead of someone else.
The conduct must be odd, i.e. that a normal reasonable person would feel bothered, uncomfortable, offended, injured or irritated by the conduct. Lastly, the conduct must be sexually motivated and directed at the child, however, it is not necessary that the child be annoyed or bothered – only that a reasonable person would feel uncomfortable, offended, etc.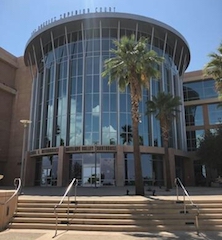 Lancaster Courthouse
The conduct can be a description of a sexual event, uttered in the presence of a person under 18 with an apparent intent to arouse or excite the minor. It can be asking a child a question of a sexual nature in a lewd manner, too. It can also be physical in nature, such as masturbating in a car in a school parking lot while having eye contact with a person under 18.
Penal Code § 647.6 is a "wobbler," meaning it can be charged as either a misdemeanor or a felony, depending on the facts of the case and the defendant's prior history. As a misdemeanor, it does carry punishment of up to one year in county jail and a $5,000 fine. However, if the person has a prior misdemeanor conviction for the same offense, the time in custody must be served in state prison.
As felony, the minimum prison time is sixteen months and the maximum is three years. However, if the person has a prior conviction for any type of sex crime involving a minor, the punishment is increased so that the minimum time in state prison is two years and the maximum is six years.
With a conviction for either misdemeanor or felony § 647.6, the defendant must register as a sex offender under Penal Code § 290. This is a lifetime requirement and perhaps the biggest aspect of punishment under this offense.
There certainly are defenses to this charge, most commonly that defendant honestly and in good faith did not know the recipient of the interest was under 18. This could be because the recipient said she was 18, was shown drinking from a bottle that was beer or alcohol, said she was a junior in a college, or her friends said she was 18 (or older).
The second defense is that the conduct was simply not sexually related. Similarly, the conduct would not have disturbed, annoyed, bothered or injured the person, but it was reported (often by an adult who overreacts or whose protective instincts are in overdrive).
When the reporting party is not the juvenile, there is often some type of other conflict that may be motivating the complaint, i.e. a single mom who wishes to report on her former husband being friendly with their daughter, but hopes the report will create higher child support payments, a father who thinks a coach is a little too close to his daughter or a friend who thinks an adult, the defendant, is "creepy" and wants the police to investigate him. The reporting party will then often "coach" the juvenile into saying certain things to further the case and increase the potential of prosecution.
It is important to note that consent from the minor is no defense. The minor is simply not old enough to give legal consent.
Finally, it is important to know that in most misdemeanor offenses, the statute of limitations is one year. However, when there is a misdemeanor violation of § 647.6 and the "victim" is under fourteen years old, the district attorney or city prosecutor has three years to file the case.
For more information about the issues in this case, please click on the following articles:
Ten Years, Not Seven, Is the Required Waiting Period for One Requesting a Certificate of Rehabilitation for Charge of Annoying a Child (Penal Code § 647.6(a)(1))
Contact us.