If Jurors Discuss Defendant Not Testifying, Prejudice?
Brief Synopsis: In the following case summarized below, the judge instructed the jury not to consider defendant's choice not to testify at trial. However, the entire jury discussed this, according to the jury foreman. Defendant made a motion for mistrial and the judge denied it. The judge then sentenced defendant to prison for 50 years to life. The appellate court then vacated the verdict, finding such misconduct was presumed prejudicial.

In March 2013, a murder took place in Brawley, California, within Imperial County, by one neighbor of his other neighbor.
Francisco Javier Solorio and Albert Ramos lived on the same side of a street in Brawley. Their homes were separated by two homes. It was generally understood that Albert Ramos had stabbed Rudy Solorio to death. Javier Solorio knew that this took place and instead of talking to law enforcement, he said he would take care of the problem. Someone then burned Javier Solorio's car and, in response, Solorio told his neighbors that he suspected Albert Ramos was to blame.
About four months later, in March 2013, Solorio's neighbors (Tamara R. and Sara J.) returned from shopping with Albert Ramos. As Ramos was walking back to his house, with Tamara and Sara watching, Solorio approached Ramos with a gun wrapped in a bandana.
Solorio allegedly asked Ramos, "remember what you did to my brother?"
Ramos responded by saying "Fuck you" and threw a plastic cup he was holding at Solorio. Solorio then grabbed Ramos around the neck and shot him in his arm, head and chest, killing him.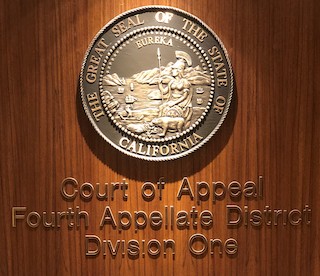 Court of Appeal 4th Appellate District Division 1 San Diego
At trial, Tamara and Sara testified about what they saw. They both stated that Ramos was not armed and did not threaten, confront or hit Solorio at any time. Sara recalled seeing Solorio holding the gun and she said "Don't do it" loud enough for Solorio to hear her before Solorio shot Ramos.
Tamara immediately called 911 and, in the background, Solorio could be heard yelling "he had a knife!" Tamara said to Solorio, "that's bullshit, Javier, that's bullshit, I saw it."
A knife was indeed recovered at the scene and Solorio did have a small knife wound to his arm. The fingerprints on the knife, however, did not match Ramos' prints.
At trial, Solorio did not testify (as is his Fifth Amendment Constitutional right), but his attorney argued self-defense. However, the prosecution played an audio tape of an interview with Solorio after the crime, wherein Solorio told officers that Ramos had stabbed Solorio's brother four years, was violent and a drug addict. Solorio also told offices that Ramos, on the day he died, had repeatedly punched Solorio in the face. Police officers, however, noted no injuries to Solorio's face.

At trial, autopsy toxicology reports showed Ramos had meth and amphetamines in his system.
After the verdict, Solorio filed a motion for a new trial under Penal Code § 1181(3) arguing that jurors engaged in misconduct by repeatedly discussing his failure to testify at trial, although the judge instructed the jury under CALCRIM 355 not to consider a defendant's decision not to testify. The juror foreperson signed a declaration stating that "the entire jury" discussed Solorio's not testifying.
The judge then held an evidentiary hearing and determined that although jurors indeed did discuss Solorio's decision not to testify at trial, which is juror misconduct, it was not prejudicial. The judge then denied the motion for new trial.
Solorio was sentenced to 50 years to life in state prison.
On appeal to the Fourth Appellate District Court in San Diego, the appellate court first noted that "when the record shows there was misconduct, the defendant is afforded the benefit of a rebuttable presumption of prejudice." People v. Cissna (2010) 182 Cal.App.4th 1105.
The appellate court continued, stating that the prosecution must then rebut the presumption "by an affirmative evidentiary showing that prejudice does not exist or by a reviewing court's examination of the entire record to determine whether there is reasonable probability of actual harm resulting from the misconduct." People v. Lavender (2014) 60 Cal.4th 679, 687 (case involving same type of juror misconduct, discussing defendant's decision not to testify). Lavender did not instruct the reviewing court to weigh the strength of the evidence. Id. 687-692.
The appellate court therefore decided not to weight the strength of the evidence showing Solorio's guilt. In doing so, the appellate court found the prosecution did not present any evidence that no actual prejudice resulted. Therefore, the judgement was reversed and the case was sent back to the trial court for a new trial.
The citation for the Fourth Appellate District Court ruling discussed above is People v. Francisco Javier Solorio (4th App. Ct., 2017) 17 Cal.App.5th 398.

For more information about trial and Fifth Amendment issues, please click on the following articles:
Contact us.