Be Careful About Being Granted Immunity and Not Testifying
Being granted immunity sounds like a good deal, right? It is a way to avoid a conviction and the consequential punishment in most cases.
In a Nutshell: In the following murder case, a witness was granted immunity if she agreed to testify at trial. At first, she refused to appear in court and the case was dismissed. In the second filing, she appeared, but refused to testify, so the prosecutors dismissed the case but later filed against the witness as an accessory to murder and was convicted.

In the following summary of a reported appellate decision, People v. Starletta Partee (2018 DJDAR 2699), one can see that one must be careful in how one handles being granted immunity. This case was filed in the Compton Superior Court.
Ms. Partee had rented a car from a Hawthorne rental car company. Witnesses to a 2006 gang-related murder identified it as the get-away car used by three gang-members. The car was later located, abandoned on a street. Ms. Partee, after renting it, notified the rental car company and reported it was stolen. The rental car company advised Ms. Partee to file a stolen vehicle report with the Hawthorne Police Department.
Meanwhile, a detective investigating the murder called the Hawthorne Police Department and asked to be notified when defendant arrived. When she did arrive, the Hawthorne PD took Partee into custody and allowed the detective to interview her.
Since no witness identified Partee, a young black woman, as involved in the shooting, the detective asked her about her relationship with the suspects in the shooting, who were her brother, her cousin and two other young men, who Partee called "family" although they were not biologically related to her.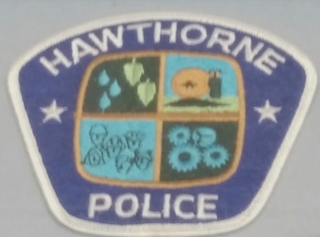 Hawthorne PD
She told the detective that her brother borrowed the rental car the evening before the shooting. The next morning, one of the "family" brothers called her to report the rental was stolen. She was later told that the theft of the car was a set up and that to avoid being killed when the car was being stolen by others, her brother, her cousin and her two "family" brothers had to "shoot their way out" to escape. They told her that they thought a man died in the skirmish.
Partee's brother, cousin and the two brothers were subsequently charged with murder. When the case went to trial in 2008, Partee was granted immunity from prosecution as long as she testified at trial. She was then subpoenaed to testify at trial and she failed to appear. The murder case was then dismissed. A warrant for her arrest was issued.
In 2015, Partee was found and held in custody as a material witness. The DA then refiled the case against the four defendants and Partee refused to testify. The judge then held her in contempt. The murder charges were then dismissed against the four defendants again (and they could not be refiled).
The Los Angeles County District Attorney then filed a felony case against Ms. Partee, charging her with four counts of being an accessory after the fact to murder and one misdemeanor count of contempt for refusing to testify. She then testified in her own trial and explained that despite the grant of immunity, she refused to testify because she feared retaliation by the gang, she did not want to alienate her family, she did not want her brother, cousin and other "family" to go to prison and "family comes first."

She was then convicted of four counts of being an accessory after the fact in violation of Penal Code § 32. She was also convicted of misdemeanor contempt for refusing to testify. She was given probation, although her maximum exposure was five years in state prison (the jury did not find Partee committed the crimes for the benefit of a criminal street gang).
Partee appealed, arguing that silence is not an affirmative act as is required to commit a violation of Penal Code § 32. The Fourth District Court of Appeal disagreed, holding that because she had a duty to testify when given immunity that is coextensive with her Fifth Amendment privilege under Penal Code § 1324. Thus, her silence was an affirmative act and her not doing so was with the intent to avoid arrest, trial, conviction or punishment.
We present this summary as a bit of a cautionary tale that being granted immunity is not always an easy offer to consider. In Partee's case, however, she did prevent the conviction of her family members and friends, but received several convictions herself and was placed on probation. Partee's decision to act as she did was apparently not a calculated decision, but this type of decision should be made carefully.
The citation for the Second Appellate District Court ruling discussed above is People v. Starletta Partee (2d App. Dist., 2018) 21 Cal.App.5th 630.

Contact us.