Can a Judge Order a Wife to Testify Against Her Husband?
There is a general rule that "neither a husband nor a wife can be a witness for or against the other." See
Stein v. Bowman
(1839) 38 U.S. 209, 221. This "adverse spousal testimony" privilege is subject to an important exception that when a husband commits an offense against the wife, or visa-versa, the affected spouse may so testify if desired by the judge or if the affected spouse wants to testify.
Kess v. United States
(9th Cir., 1926) 11 F. 2d 227, 228.
In our experience, this privilege is often unknown to many of our domestic violence clients, but when one spouse is aware of this privilege, that spouse does not fully understand how the exception applies or confuses it with the spousal communication privilege.
About This Article Briefly: A judge may order one spouse to testify against another despite the Adverse Spousal Testimony privilege if one spouse is the victim of another, i.e. in domestic violence like in the case summarized below.

The following federal court case exemplifies the "adverse spousal testimony" privilege and its exceptions.
Leon Seminole was convicted of strangling and assaulting his wife. During trial, his wife did not want to testify, but the judge ordered her to testify and she did so.
Mr. Seminole and Maxine Limberhand had a history of marital problems. By August of 2014, she decided to move out. So on August 17, 2014, Limberhand drove with her brother and his girlfriend to the house to help Limberhand remove her belongings.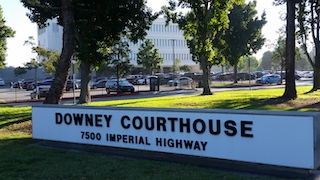 Downey Courthouse
Ms. Limberhand first spoke with Seminole and told him her intentions. She then went inside the house, while her brother and his girlfriend waited outside. Seminole then shut the door. A few minutes later, her brother saw Limberhand "staggering out, holding her cheek."

Seminole followed her outside, holding a pistol. When Limberhand's brother approached, Seminole cocked the pistol and held it at his side. At this point, Limberhand was bleeding from her cheek.

Limberhand then told her brother and his girlfriend they should leave before Seminole shot someone. Her brother and the girlfriend heeded the advice and as they were leaving they met a police officer. The police officer observed Limberhand's injuries and advised that they go the local emergency room, which they did.

Limberhand also told the police officer how she was injured. She described how Seminole punched her and kicked her until she went to the floor. Seminole then got on top of her and hit her a few more times before putting her into a chokehold. Limberhand then made similar statements to the emergency room staff in describing her injuries, which had time to show by arriving at the hospital: a swollen right eye, a chipped tooth, a lacerated lip, a scraped knee and more swelling around her left eye.

The felony case against Seminole went to trial. The government called Limberhand to testify, but she asserted the spousal testimony privilege to avoid taking the stand.

The judge overruled her objection to testify and ordered that she testify.

Limberhand then testified that she was the instigator and Seminole merely tried to hug her to calm her down. The prosecutor then impeached her testimony with her prior statement detailing the assault and the choking.

The jury returned guilty verdicts on two counts of domestic violence. The judge sentenced Seminole to four years in prison on both counts.

Seminole then appealed the judge's order that compelled Limberhand's testimony. The appellate court first noted the distinction between the "marital communications privilege" and the "adverse spousal testimony" privilege. The marital communication privilege allows either spouse to prevent testimony concerning statements privately communicated between them. United States v. Griffin (9th Cir., 2006) 440 F. 3d 1138, 1143-44.

The "adverse spousal testimony" privilege, however, is subject to the exceptions that a judge may order the testimony of one spouse against the other if the one spouse is a victim of the other spouse. Wyatt v. United States (1960) 362 U.S. 525.

Therefore, the appellate court, relying upon Wyatt, denied Seminole's appeal.

The citation for the U.S. Ninth Circuit Court of Appeal ruling discussed above is United States v. Leon Seminole (9th Cir., 2017) 865 F.3d 1150.