What Is the Marital or Spousal Privilege? Its Limits?
The reader of this article may have heard about someone committing a crime, for example bank robbery, and then marrying the only witness to "seal her lips" to prevent a conviction. It is an intriguing issue, legitimized by many states to safeguard "domestic tranquility" by protecting all communications made by one spouse to another during or even before a marriage. In fact, one spouse can assert the privilege to silence the other spouse from testifying.
About This Article Briefly: The spousal privilege is a much-misundertood privilege romanticized in movies and television. It exists in California, but not how one may believe it operates. To learn more about how this privilege works in a criminal case in California, please read the following article.

In California, under Evidence Code §§ 970 and 971, the marital privilege, also known as the spousal privilege, grants a blanket privilege to a witness to refuse to testify against his or her spouse. It also allows the witness, or the spouse against whom the witness is called to testify, to refuse to reveal confidential communications made in the course of the marriage. Evidence Code §§ 980 and 987.
Naturally, there are exceptions. First, the privilege would not apply if the communication was made in the presence of a third party who could hear the communication, as there would be no reasonable expectation of privacy when another person could hear what was spoken.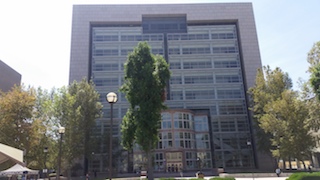 Van Nuys Courthouse
The privilege also certainly does not apply in cases of domestic violence by one spouse against the other. Evidence Code § 972(e)(1). Otherwise, one spouse could injure the other and then assert the privilege to prevent the victim spouse from testifying against him or her. Such a privilege could enable those who commit domestic violence to do so without fear of punishment and take away all rights of a spouse who is a victim.
It is important to note that this privilege is not just evidentiary in nature, although the Evidence Code is where it is set forth. It also acts as a bar to prevent the prosecutor from calling the spouse of a defendant. In other words, the prosecutor cannot even call the spouse to the stand as a witness, only to force the defense attorney to assert the privilege in front of a jury and create a suspicion that the spouse has evidence of a crime, i.e. a bank robbery, forgery, tax fraud, embezzlement, so the defendant spouse asserted the privilege to protect himself or herself.
It is equally important to appreciate that a spouse who might be in the process of a divorce with the defendant spouse can decide to testify against the defendant spouse. The defendant spouse then cannot "seal her lips" with this privilege.
The privilege does not apply to folks who are engaged to be married. Our office has been asked about this several times. It also does not apply to couples who consider themselves married due to common law marriage principles.
People v. Delph
(1979) 94 Cal.App.3d 411, 416 (in California, there is no such thing). There must be a marriage license in effect.
Furthermore, in reference to the opening hypothetical, Evidence Code § 972(f) states that the privilege does not apply to a spouse who was not married to the defendant when the crime took place or the marriage was consummated to take advantage of the privilege, i.e. in a continuing crime.
Lastly, we have seen this privilege arise several times in the context of a conversation between spouses while one spouse is in jail, while charges are pending. One spouse will say something of a confession to the other and the prosecution will seek to introduce it, claiming the spouse in jail had no expectation of privacy or confidentiality in jail. Does the privilege survive even if one goes inside a jail and talks to one's husband or wife?
There is a case on point on this factual situation. In
North v. Superior Court
(1972) 8 Cal.3d 301, officers secretly tape recorded a conversation between a visiting wife and her inmate husband in a detective's private office in the facility "under circumstances which strongly indicate that petitioner [husband] and his wife were lulled into believing that their conversation would be confidential." It was held that, under the circumstances presented, the husband inmate had a reasonable expectation that his conversation was, and would remain, private and confidential. Hence, the tape recording was protected by the marital communication privilege and the husband was entitled to have the tape recording suppressed.
The
North
case is significant in that the court points out that, normally, the marital communication privilege does not protect from disclosure a jailhouse conversation between an inmate and his spouse since an inmate cannot expect any right of privacy for such a conversation. The court commented, "[N]othing in our opinion should be deemed a disapproval of the common practice of monitoring inmates' conversations with others, including their spouses, in visiting rooms or similar places. That practice seems reasonably necessary in order to maintain jail security and is not proscribed by law.'
Two years after
North
, the California Supreme Court decided
People v. Hill
(1974) 12 Cal.3d 731. In
Hill
, there was a police-monitored and tape-recorded jailhouse conversation between a defendant and his wife which took place in a common visiting room of the jail over an intercom system. The
Hill
court held that the North decision did not require evidentiary exclusion of the tape-recorded conversation found in
Hill
. The
Hill
court emphasized that the record before the court disclosed no evidence that the jail officers had created any expectation or belief by the husband inmate that the interspousal communication would be private. In short, if one is to visit a spouse in jail, it would be best simply not to discuss the facts of the case.
For more information about the issues in this article, please click on the following articles:
I Face a Civil Restraining Order for Domestic Violence and a Criminal Charge of Domestic Violence – What Should I Do?
Contact us.