If Child Witness Refuses to Testify, 6th Amendment Violated?
In a Nutshell: The Sixth Amendment right to face one's accuser and cross-examine that person cannot be satisfied by playing a video of an interview of the accuser, even if the case involves a sex offenses with a very young victim, as in the case summarized below.

In September, 2011, a four year old daughter returned home to her mom after a weekend visit with her dad. The parents were separated and involved in divorce proceedings.
Later that night, the mother was getting her daughter ready for bed, a routine that included the mom applying ointment to her daughter's vagina to prevent rashes. According to her mom, the daughter responded by "grabbing her labia and saying in a playful, but rougher, tone of voice 'I'm going to eat you.'"
The mother asked her daughter, "Where did you learn that?" The daughter responded, "My papi." The "papi" was her father, Ricardo Giron-Chamul.
The mother then asked if Giron-Chamul had done anything else to her and the daughter described that he had "slammed her groin with his hand cupped." She then put her daughter to sleep.
The next day, the mom took her daughter to her daycare and asked the daycare provider to try to elicit more information. The daycare provider, who had known the four-year old since she was two, asked her about being touched "al frente" (her front area), to which the young girl responded by lifting up her dress and trying to lower her pants to demonstrate. The little girl went on to describe how she had told Giron-Chamul to stop and claimed that "Papi's amigos also told him to stop," explaining they too were in the room.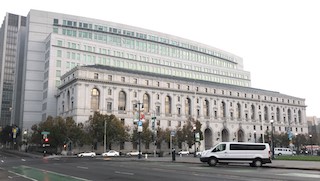 Court of Appeal First Appellate District San Francisco
The young girl also explained that her best friend Jessie was present with her at the time. Other times, her dad would try to touch her when she was in the bath "and he would be sneaky." The four year old then drew a picture of herself and said she felt sad. She explained that it was because her papi licked "her bottom."
The young girl's mom then took her to a hospital later that morning. A physical exam there of her genitalia revealed "no bruising, no redness, no swelling "or any other indication that the daughter had been hurt. The daughter also told the doctor she had no pain in such areas.
The mom then reported the situation to the police, who interviewed the little girl. During the interview, the little girl was unable to say her name or explain the difference between the truth and a lie. However, she then described how her dad licked her vagina "like a hundred times." She added, "He can't stop because he's so crazy." She said she told him to stop, but he would not. The daughter then demonstrated how her father inserted his finger into her vagina, and moved it around.
The father was then arrested and the case proceeded to trial. The daughter's testimony was videotaped and lasted four days. During her testimony, she offered dozens of bizarre answers and yet also testified that her dad put his penis in her mouth and had sexual intercourse with her. During further questioning, she crawled under the table visible to the jury and refused to answer questions.
On cross-examination, the young girl refused to answer questions from the defense attorney. She admitted she was pretending to be tired, but she was not. She then described, eventually, how her farther had torn her clothes, including her "Hello Kitty" suits. However, she said she had "like a thousand more Hello Kitty suits" at her mother's house. She then turned her back at the camera and refused to answer questions at all.
A jury convicted Giron-Chamul of the oral copulation count and acquitted him of two other counts. He was sentenced to a term of fifteen years to life in prison.
On appeal, Giron-Chamul claimed many grounds of error, but this article will cover only his arguments that the testimony of his daughter, who was five years old at the time of trial, should have been excluded because he was deprived of his constitutional right to confrontation.
The First Appellate District agreed with Giron-Chamul and reversed the verdict. The Sixth Amendment to the U.S. Constitution gives the accused the right to be confronted with the witnesses against him. "This has long been read as providing an adequate opportunity to cross-examine adverse witnesses."
United States v. Owens
(1988) 484 U.S. 554, 557,
This means not only testing the recollection and sifting the conscience of the witness, but "of compelling him to stand face to face with the jury in order that they may look at him, and judge by his demeanor upon the stand and the manner in which he gives his testimony whether he is worthy of belief."
People v. Cromer
(2001) 24 Cal. 4th 889, 896-897. This is a "fundamental right of a fair trial."
Mattox v. United States
(1895) 156 U.S. 237, 242-243.
Here, the five year old girl admitted at times that she was ignoring the defense attorney's questions and that she pretended to be tired to stop the questioning. The fact that a very young witness offers any testimony does not of and by itself satisfy the right to cross-examination.
United States v. Spotted War Bonnet
(8th Cir. 1991) 933 F. 2d 1471, 1474.
However, when a very young witness refuses to testify, this deprives defendant of the right of confrontation. See, e.g.,
In re
N.C.
(Penn. 2014) 105 A.3d 1199, 1200. Numerous other decisions were also cited, but in the end, the court found that Giron-Chamul's right to cross-examine the child was violated.
We agree with this decision, as painful as it may seem. After all, the prosecution made a decision to base its case upon the credibility of a four year old and if a different standard were to be applied because she was a child, our judicial system would subject itself to a slippery slope of allowing defendants fewer rights when a witness is uncooperative, perhaps even influenced by the severity of the alleged crime. This would be fundamentally unfair and erode our judicial system.
The citation for the First Appellate District Court ruling discussed above is People v. Ricardo Giron-Chamul (1st App. Dist., 2016) 245 Cal.App.4th 932.

For more information about the right to cross examine a witness, please click on the following articles:
How Does the Sixth Amendment Affect My Right to Cross Examine a Witness with Knowledge About a Lab Report?
Contact us.