If a Franklin Hearing is Granted, Does Prop 57 then Apply?
Recently, we have had a series of phone calls that are quite disturbing because they deal with other attorneys giving out incorrect legal advice and potential clients then sharing those attorneys' comments with us.

The gist is that some licensed attorneys have told potential clients and the families of potential clients that if one is granted a Franklin hearing, one "opens the door" to being resentenced on gun enhancements, prior serious felony enhancements and that one can even request a transfer hearing of the entire case back to juvenile court to "start all over" (which would be great if witnesses are lost, evidence is missing, etc., not to mention the lower sentences in juvenile court). Such advice is wrong, wrong and wrong – and we understand how such bad advice is given in good faith because such advice does apply if one is granted a resentencing hearing under 1170.95 (Senate Bill 1437), but it does not apply to a Franklin hearing.
Brief Synopsis: Proposition 57 does not apply if a Franklin Hearing is granted because a Franklin Hearing is not resentencing.

The following case from the Second Appellate District shows how such bad advice becomes a published decision, which must be extremely embarrassing to the criminal defense attorney, whose name we will not publicly shame.
The case involved Defendant Jesus Lizarraga, who was 17 years old when he shot a rival gang member. In 2014, the case against him was filed directly in adult court. He was then tried and the jury found him guilty of second-degree murder, with certain gun enhancements found true. He sentenced by Judge Kelvin D. Filer in Compton Superior Court as an adult to 40 years to life in state prison. He appealed the verdict and sentence, but it was affirmed. He then appealed to the California Supreme Court, but it denied review.
More than six months passed after the California Supreme Court ruling, so the judgment and sentence in his case then became final.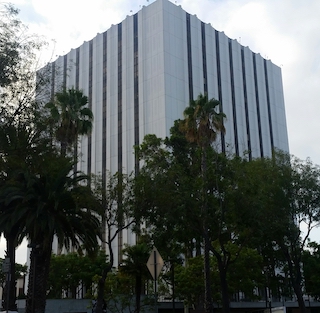 Compton Courthouse
However, on November 8, 2016, California voters approved Proposition 57, which provided early parole eligibility criteria, increased custody credits for educational and milestone-type achievements in prison and, as relevant here, prohibited prosecutors from charging juveniles with crimes directly in adult criminal court (such cases could be transferred, however, to adult court after a transfer hearing, as is common in gang-related cases, especially murders, as in Lizarraga's case). Proposition 57's provisions were not retroactive to final judgments and final sentences. People v. Superior Court (Lara) (2018) 4 Cal.5th 299, 303.
A year and a half after Proposition 57 was passed, Lizarraga filed a petition for writ of habeas corpus seeking a "Franklin hearing." It is a bit painful to a request to all documents to one's file for a Youth Offender Parole hearing brought as a petition for a writ of habeas corpus when such a request merely should be brought as a request to augment one's file for purposes of a Youth Offender Parole hearing.

Prior to the scheduled hearing on the Franklin motion, Lizarraga filed a "Notice of Motion and Motion to Remand the Case to Juvenile Court in Light of Proposition 57," despite the judgement and sentence in his case being final years earlier. Predictably, the People opposed Lizarraga's motion, arguing that judgement in his case was final even before Prop 57 was passed.

The trial court, Judge Filer, then denied the motion because not only was Lizarraga's judgment final before Prop 57 was even passed, but "a Franklin hearing is not a resentencing."
Lizarraga appealed to the Second Appellate District, which affirmed Judge Filer. It explained that when the judge scheduled a Franklin hearing, that did not "undo" the final judgment status of his sentence. Lizarraga's judgement was final 90 days after the California Supreme Court denied review on March 7, 2016 when Lizarraga failed to further appeal his case to the U.S. Supreme Court by filing a petition for writ of certiorari.

Moreover, People v. Hargis (2019) 33 Cal.App.5th 199, which held that a defendant is entitled to a juvenile transfer hearing after he appealed his conviction and his case was remanded for a Franklin hearing was inapplicable because in Hargis, Mr. Hargis' conviction was not final when he appealed for a juvenile transfer hearing.
We present this published decision to clarify a common misperception and reiterate for readers that a Franklin hearing is a limited hearing just for adding documentation to a file for consideration at a future parole hearing. It is not resentencing at all.
The citation for the Second Appellate District Court ruling discussed above is People v. Jesus Lizarraga (2d App. Dist., 2020) 56 Cal. App. 5th 201, 270 Cal. Rptr. 3d 273.

For more information about Proposition 57 and Franklin Hearings, please click on the following articles: