How to Prevent the Admission of Photographic Evidence?
In many cases where there are physical injuries, i.e. domestic violence, battery, mayhem and even murder (autopsy photographs), photographic evidence can be persuasive evidence that shows a crime took place.
However, there are certain due process principals that must be followed. Defense counsel must be given notice that the prosecution intends to introduce such photographs for a judge or jury to view.
Brief Synopsis: To prevent the introduction of photographs at trial one needs to evaluate if the photographs are an accurate representation for what the party seeks to show or argue through the image. Was the photo taken at a meaningful time, does it provoke an emotional response (i.e., sympathy for the victim), is it cumulative evidence, i.e. ?

First, defense counsel should ensure that there is no foundation objection possible. In other words, are the photographs indeed of the victim? Sometimes, that is not clear. Is the photographer able to testify that the photograph is a true and accurate representation of what the photograph purports to be?
This is particularly true in domestic violence cases where a photograph may be of only a smart part of the body. Our office once noticed that a particular photograph was from a different case because a tattoo was visible that the alleged victim did not have. Police, after all, can make mistakes.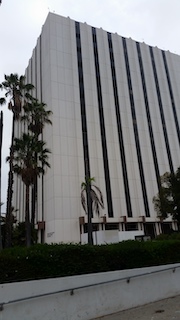 Compton Courthouse
Defense counsel may then object that the photographs are more prejudicial than probative.
People v. Cardenas
(1982) 31 Cal.3d 897, 904. Such photographs or displays may be excluded where the principal effect is to arouse the jury's passion.
People v. Carter
(1957) 48 Cal.2d 737, 751; see also
Jones v. City of Los Angeles
(1993) 20 Cal.App.4th 436, 445-446. In addition, "[t]he general rule is that, '[w]here the inevitable effect of introducing a photograph or display is to arouse the sympathy or prejudice of the jury, and the fact in proof of which it is offered is not denied, or where its introduction serves no purpose other than to inflame the jurors' emotions, it is not admissible.'"
People v. Redston
(1956) 139 Cal.App.2d 485, 491; see also
People v. Navarette
(2003) 30 Cal.4th 458, 495 (the trial court's decision to admit a victim photograph will stand unless the prejudicial effect of the photograph clearly outweighs its probative value).
However, the use of photographs of the deceased victim is within the trial court's discretion, meaning the judge can still allow the jury to see such photographs. See
People v. Smithey
(1999) 20 Cal.4th 936;
People v. Thompson
(1988) 45 Cal.3d 86, 114 (photographs of victim's face and of injuries admissible to show care taken during commission of crime, to refute defendant's contention that he had been drunk on night of crime);
People v. Walker
(1988) 47 Cal.3d 605, 630 (use of victim's high school yearbook photo to aid witness in court in identifying victim permissible; photo was only one available to prosecutor);
People v. Thompson, supra
(photo of victim while alive admissible to show that victim was a live human being on the night of the crime earlier in the evening).
Sometimes, a photo or even a videotape will have a particular evidentiary value that is separate from any type of intended emotional impact the prosecution may desire. For example, in
People v. Harris
(2005) 37 Cal.4th 310, 332, a silent videotape of the victim at a children's party was admissible to show the victim owned and wore jewelry that the prosecution claimed was stolen during her murder.
It merits mention that photographs of victims as they appeared in life are always admissible at the penalty phase of a capital trial (a murder case).
People v. Anderson
(2001) 25 Cal.4th 543, 594;
People v. Lucero
(2000) 23 Cal.4th 692, 714.
In other words, defendant should always ensure the photograph is indeed what the prosecutor claims it is and then try to clarify exactly what the intended purpose of such photographic evidence is before a jury is presented with any photograph. If the prosecutor cannot articulate the purpose, defense counsel should ask the judge to order it inadmissible (move to exclude the evidence).
For more information about issues, please click on the following articles:
City of Inglewood Red Light Camera Ticket Upheld at California Supreme Court, Finding That the Photographs and Video at Issue Were Properly Authenticated
Contact us.