How Can One Challenge an Erroneous Photo Identification?
If you were identified as the suspect in a crime by an eye-witness to the crime, but you absolutely know that eye-witness is wrong, it can be frustrating, to say the least. The prosecutor may seem smugly confident of a conviction and the judge may question whether you are mentally ill.
However, eye-witness testimony is often erroneous. It is well known that, according to psychologists, an individual's ability to perceive is strained when an event is unexpected. See Bruner, On Perceptual Readiness, 64 Psych Rev 123 (1957); Burtt, Applied Psychology (1957). Experiments by psychologists indicate that six to eight impressions are the maximum an observer can grasp in a single event. See, e.g., Blom-Cooper & Wegner, Psychological Selectivity in the Courtroom, 8 Med. Sci & Law 31 (1968).
About This Article Briefly: Eyewitness testimony really can only be challenged by use of a suppression motion to exclude the identification evidence or, if that fails, by retaining an eyewitness expert to describe why the identification of you as the suspect is wrong. Hire an eyewitness expert!
Strong emotions at the time of observation or later reports tend to increase the probability of error. See Anastasi, Fields of Applied Psychology (1964). Even when the initial observations were good, the memory begins a rapid decline. See Clifford, The Relevance of Psychological Investigation to Legal Issues in Testimony and Identification, 1979 Crim L Rev 153 (1979).
As Justice Felix Frankfurter pointed out in his book The Case of Sacco and Venzetti (1927): "What is the worth of identification testimony even when uncontradicted? The identification of strangers is proverbially untrustworthy." This is particularly so when the identification of a stranger is based on a single, quick encounter, the witness' level of certainty about the identification may not always correlate to the accuracy of the identification.
People v. Alvarado (2006) 141 Cal.App.4th 1677, 1586, 47 Cal.Rptr.3d 289.
In other words, mistaken identification is a big risk for a witness to a crime, as a crime is an unexpected event. However, the prosecution usually presents eyewitness identification testimony as extremely reliable. See U.S. v. Field (9th Cir. 1980) 625 F.2d 862.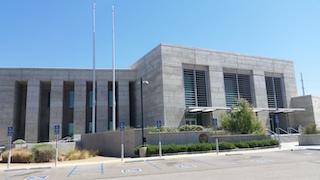 Banning Courthouse
When a witness is shown a single photographs or photographs of the possible suspect for identification, there is great danger in misidentification.

Such photo ID exercises are sometimes called a "mug run" "photographic lineup," "six pack," "mug book" or "photo spread."
Regardless of what the exercise is called, how can one challenge this procedure? After all, there is no right for counsel to be present at a photo identification proceeding. U.S. v. Ash (1973) 414 U.S. 300, 37 L.Ed.2d 619, 93 S. Ct. 2568; People v. Rist (1976) 16 Cal.3d 211, 217, 127 Cal.Rptr. 457.
In challenging a photographic lineup, the burden is on the defendant to show that the lineup was so unnecessarily suggestive or conducive to irreparable mistaken identification that it deprived him or her of his due process. The unfairness must be a demonstrably reality, not mere speculation. See People v. DeSantis (1992) 2 Cal.4th 1198, 1222, 9 Cal.Rptr.2d 628.
A procedure that is unfair is one where the identity of the person is suggested in advance of identification by the witness. People v. Sanders (1990) 51 Cal.3d 471, 508, 273 Cal.Rptr. 537.
It is preferable that multiple photos be presented to the witness and that each be of the same type, i.e. all black and white, all front view, all of the same size. However, failure to comply with this does not necessarily make the identification unduly suggestive. People v. Holt (1972) 28 Cal.App.3d 343, 104 Cal.Rptr. 572, disapproved on other grounds in Evans v. Superior Court (1974) 11 Cal.3d 617, 625, n6, 114 Cal.Rptr. 121. The photographs should be of people generally of the same age, complexion, physical features and build. Holt, supra. There should be no more than one photo of the accused in the group. People v. Citrino (1970) 11 Cal.App.3d 778, 90 Cal.Rptr 80.
Prosecutors should preserve the photographs shown to a witness (see People v. Hawkins (1970) 7 Cal.App.3d 117, 86 Cal.Rptr. 482 (preservation of photo spread presumed)), and the format and order of presentation. When a photo lineup is negligently lost or destroyed, identification based on the photo lineup is subject to suppression if the witness has not adequate independent recollection of the defendant from the time the crime occurred. People v. Ratliff (1986) 41 Cal.3d 675, 690, 224 Cal.Rptr. 705.
In other words, if you or a loved one is mistakenly identified in a photo lineup, it is good to have an attorney who can review the entirety of the lineup procedure, including the photographs used, in order, to seek suppression of the identification, if possible.
For more information about faulty identification issues, please click on the following articles:
Contact us.