How Long of a Sentence Violates the 8th Amendment?
About This Article Briefly: A sentence length (for a crime committed as an adult in prison) violates the Eighth Amendment ban on cruel and unusual punishment when it causes a prisoner in prison for a juvenile offense to no longer be eligible for release within his lifetime. In such a case, the adult segment of the sentence remains, but the juvenile component was reconsidered in light of Miller and Graham (pre-cursors to a Franklin Hearing).

When considering the length of a sentence involving a conviction of a juvenile for a crime not involving homicide, there are two important United States Supreme Court decisions that inevitably are discussed within the context of the Eighth Amendment prohibition against cruel and unusual punishment. They are Miller v. Alabama (2012) 567 U.S. 460, 183 L.Ed. 2d. 407 and Graham v. Florida (2010) 560 U.S. 48, 176 L.Ed. 2d. 825.
Graham interpreted the Eighth Amendment as forbidding a sentence of life without the possibility of parole (LWOP) for a non-homicide conviction unless the judge carefully evaluates the defendant's case and defendant individually as meriting an LWOP sentence. The underlying principal behind Graham is the fundamental concept underlying the Eighth Amendment that the sanction for criminal behavior is graduated and proportional to the severity of the offense. Atkins v. Virginia (2002) 536 U.S. 304, 311, 153 L.Ed. 2d 335, 343-344.

Miller forbids the automatic imposition of an LWOP sentence to a juvenile offender. Miller, supra, at 465.
No case, however, has addressed how the Eighth Amendment applies, if at all, to a prisoner serving a sentence for crimes committed as a juvenile that may exceed his natural lifespan when that prisoner is later convicted of a further offense (in prison) which may disqualify him from the youth offender parole provisions of Penal Code § 3051, which addresses eligibility for parole while serving a certain (determinate) term sentence.
No case addressed that until the Third Appellate Court did so on September 30, 2019 in the case of In re D'Arsey Lawrence Bolton (2019 DJDAR 9405).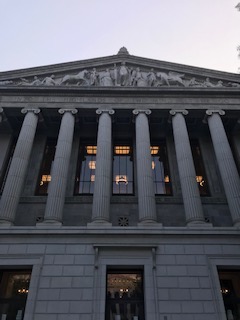 Court of Appeal Third Appellate District Sacramento
On December 1, 1993, Bolton was sixteen years and eleven months old. Ten-year old Jane Doe I left her Richmond classroom to run an errand. Bolton was at the school and asked Jane Doe I to go in the girl's bathroom to look for his cousin. Jane Doe I went into the bathroom as requested and came out to tell Bolton no one was in the bathroom. Bolton then pushed her back in, pulled out a knife, threatened to kill her if she screamed and raped her five or six times. After he finished, he told her not to tell anyone and left.
Two days later, Jane Doe II's mom dropped her off at middle school in El Cerrito. Bolton followed her into the bathroom and tried to rape Jane Doe II, pulling down her pants while holding a gun to her head, but she screamed despite his threat to kill her. Bolton then ran away.
Bolton was later convicted in Lassen County Superior Court of five counts of rape, two counts of unlawful penetration with a foreign object, two counts of forcible lewd conduct, two counts of false imprisonment, one count of attempted rape and one count of assault with a deadly weapon, as well as multiple enhancements for being armed with and using a knife and pistol. He was sentenced to 92 years in state prison, but it was modified to 91 years on appeal.
Thirteen years later, while in prison (when Bolton was 30 years old), a correctional officer at the High Desert State Prison searched Bolton's cell and found a black metal object, six or seven inches long, with a sharpened blade with a white cloth wrapped around one end.
Following a jury trial, Bolton was convicted of possession of a sharp instrument in prison. He admitted eleven prior strike convictions and was sentenced to 25 years to life under the Three Strikes Law.

Bolton then appealed to the Third Appellate District, arguing that the sentence violates the unusual punishment provisions of the Eighth Amendment and asked to be resentenced so that he was eligible for release during his lifetime.
The Third Appellate District Court agreed that resentencing was appropriate on the juvenile offenses and vacating that 91-year sentence for further resentencing, but not vacating the adult sentence, finding it did not violate the Eighth Amendment.
The Third Appellate District remanded the case to the Lassen County Superior Court to resentence Bolton in light of Miller and Graham, both of which were decided well after Bolton was first sentenced.

The Third Appellate District was deliberate, however, in stating that it took no position on whether the total sentence for both the juvenile and adult convictions must include a meaningful opportunity for parole as defined in Miller, Graham, People v. Caballero (2012) 55 Cal.4th 262 (a sentence of a terms of years that falls outside the juvenile offender's natural lifespan is the functional equivalent of an LWOP sentence and thus violates the Eighth Amendment) or People v. Contreras (2018) 4 Cal.5th 349 (a sentence of a juvenile offender should "enable a juvenile offender to hold a job or otherwise participate as a productive member of society if released" and finding that a 50 year sentence for a juvenile was functionally equivalent to LWOP).
We present this case summary to show the very dramatic changes in juvenile sentencing, especially in light of Contreras and how an LWOP sentence is considered shorter and shorter nowadays, even in the seemingly most heinous crimes.
The citation for the Third Appellate District Court ruling discussed above is In re D'Arsey Lawrence Bolton (3d App. Dist., 2019) 40 Cal. App.5th 611.

For more information about lengthy sentences and the Eighth Amendment prohibition against cruel and unusual punishment, please click on the following articles:
Contact us.