How Long Is Too Long for a Warrantless Cell Phone Search?
The Fourth Amendment to the U.S. Constitution is not violated when officers conduct a warrantless search "incident to an arrest."
Overview: Is One Hour and Twenty Minutes Too Long for Police to Wait to Conduct a Cell Phone Search Incident to an Arrest without a Warrant?

This well-known exception to the warrant requirement, however, has its limits. Police may only search the area within the immediate control of the arrestee. This is often defined as within the arrestee's "wing span" or reach of his hands if in a car. The purpose of the search is to prevent destruction of evidence and to ensure the safety of officers, i.e. to look for weapons.
The search must also be conducted "temporarily incident" to the arrest. This means the warrantless search must be conducted "roughly contemporaneous with the arrest."
United States v. Smith
(9th Cir. 2004) 389 F. 3d 944.951. How long after the arrest is "roughly contemporaneous?"
The following case from a 2009 arrest of Chad Camou by U.S. Border Patrol agents helps answer this question and set limits for future police searches without a warrant.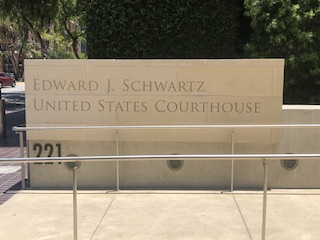 US District Court San Diego
On August 1, 2009, U.S. Border Patrol agents stopped a truck belonging to Chad Camou at an inspection checkpoint on Highway 86 in Westmoreland, California. Ashely Lundy, his girlfriend, was in the car. Agents became suspicious when Lundy did not make eye contact with the agents.
Agents then asked permission to look inside the truck. When officers looked inside the truck, they discovered Alejandro Martinez Ramirez laying down on the floor of the truck behind the truck's front seats.
Consequently, at about 10:40 p.m., agents arrested Camou, Lundy and Martinez-Ramirez. At the same time, they seized Camou's cell phone.
While agents then interviewed Lundy, Lundy told them that before they picked up Martinez-Ramirez, "Mother Teresa" called Camou on his cell phone and told him where to go to pick-up Martinez-Ramirez. During Lundy's interview, Camou's cell phone rang several times. The phone number displayed on the screen of the cell phone was the same phone number that Lundy said belonged to "Mother Teresa."
Lundy also told agents that she and Camou had smuggled undocumented agents from Mexico to the United States about eight times per month for the last nine months. She explained that Camou would get a phone call and then he and she would pick-up someone at a designated place in Mexico and then drive into the United States. Meanwhile, Camou's phone kept ringing.
At midnight, an hour and twenty minutes after both Lundy and Camou had been arrested, Agent Walla searched Camo's phone. In his report, Walla wrote that as he was searching for evidence of smuggling, he looked at several videos stored on the phone's internal memory. He then looked at photographs stored on the phone. At no time did Walla assert that he was doing so to prevent the destruction of evidence or to ensure his or anyone else' safety.
Of the images viewed, thirty or forty were of child pornography. Walla then called U.S. Immigration and Customs Enforcement (ICE) and local police, as well as the FBI about child pornography. A few days later, the FBI served a search warrant to search Camou's phone. Several hundred more images were found.
A grand jury indicted Camou for possession of child pornography in violation of 18 U.S.C. § 2252(a)(4)(13). Camou moved to suppress the images, arguing that the warrantless search of his phone was improper. The District Court denied his motion, reasoning that the search was constitutional and that the good faith and inevitable discovery exceptions to the exclusionary rule were satisfied.
Camou then entered into a plea bargain and was sentenced to thirty-seven months in federal prison. No charges for the smuggling were even alleged.
Camou appealed the district court's ruling in the United States District Court for Southern California. Circuit Court Judge Pregerson wrote the court's opinion, agreeing with Lamou and reversing the district court. The appellate court found that the search was not roughly contemporaneous with Camou's arrest and thus, not incident to an arrest. It was an hour and twenty minutes after the arrest. The delay is longer than the 35 to 45 minutes that was not allowed in a such a search in
United States v. Vasey
(9th Cir., 1987) 834 F. 2d 782., or an hour in the search of a purse that was not allowed in
United States v. Moncalvo- Cruz
(9th Cir., 1981) 662 F. 2d 1285, 1288.
The court further found that the search certainly was not performed in response to any exigency, as Agent Walla stated nothing in his report that described danger or destruction of evidence issue.
The inevitable discovery theory also was improper because the government did not show that it would have applied for a warrant to search Camou's phone for evidence of smuggling activities (not child pornography).
Lastly, the good faith exception did not apply because Agent Walla was an experienced officer and should not have thought such a late search incident to an arrest was lawful.
Accordingly, the case was dismissed.
The citation for the U.S. Ninth Circuit Court of Appeals ruling discussed above is United States v. Chad Daniel Camou (9th Cir., 2014) 773 F.3d 932.

For more information about the issues in this case, click on the following articles:
Contact us.