How Does AB 1008 Help Job Applicants with Criminal Records?
On January 1, 2018, Assembly Bill (AB) 1008 will become law as Government Code § 12952. This bill will greatly reduce the situation where a highly qualified job applicant is turned away without even an interview because of a criminal history. It will also force employers with five or more employees to look at the merits of a potential hire before even asking about whether someone has a criminal history.
About This Article Briefly: If you have a criminal record and are applying for a job with an employer having five or more employees, the new Government Code § 12952 improves your chances of being hired and avoiding the stigma of having a criminal record. If you are an employer with five or more employees, you ought to review 12952 to ensure your hiring practices follow its new standards.
The bill requires that such employers delay consideration of an applicant's criminal history until after making a conditional offer of employment. Assembly Bill 1008 makes it "an unlawful employment practice" for an employer to do any of these four things (as provided under 12952(a)):
1. Ask on an employment application any question that seeks an applicant's conviction history, prior to the employer making a conditional offer of employment to the applicant;
2. Ask about or consider the conviction history of the job applicant until after the employer has made a conditional offer of employment;
3. Consider, distribute or disseminate information about any specified results while conducting a conviction history background check; or
4. Interfere with, restrain or deny the exercise of any right under this new code section.
When an employer does later conduct a conviction history background check and decides to rescind the conditional offer based solely or in part on the conviction history, the employer is required to make "an individualized assessment" of whether the applicant's conviction history has a "direct and adverse relationship with the specific duties of the job that justify denying the applicant the position." Government Code § 12952(c)(1)(A).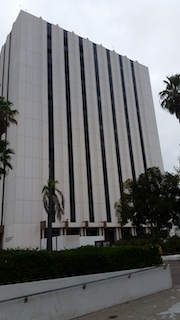 Compton Courthouse
Under Government Code §§ 12952(c)(1)(A) and (B), in making this particularized assessment, which the employer can commit to writing (but is not required to do so), the employer is supposed to consider the nature and gravity of the offense or conduct, the time that has passed since the offense or conduct and completion of the sentence; and the nature of the job sought. We would expect most employers to simply make a phone call in communicating this, rather than committing anything to writing that an employment law attorney may sue the employer over later.
If the employer decides that the applicant's conviction history disqualifies the applicant from employment, then, under this new law, the employer must notify the job applicant of this decision in writing. The notification does not have to justify or explain the reasoning, but it certainly may. The notification must contain certain information contained in § 12952(c)(2).
Thereafter, the job applicant must be given five business days to respond before a final decision is made denying the application. If the job applicant responds by disputing the report (i.e. it is mistaken and the conviction history is about someone else, for example) and that he or she is providing information to support the dispute, then the job applicant must be given another five days to respond to the employer's notification. § 12952(c)(3).
Thereafter, the employer must consider the information submitted by the applicant before making a final employment decision. If the employer then decides to deny the applicant employment, that decision must also be in writing and contain certain statements of specified rights as set forth under § 12952(c)(5).
This new law, however, does not apply to state or local governmental agencies, any position with a criminal justice agency (i.e. law enforcement) or a position as a Farm Labor Contractor, or any other job where an employer is required by any state, federal or local law to conduct criminal background checks for employment purposes or to restrict employment based upon criminal history.
For more information about criminal history and employment issues, please click on the following articles:
Contact us.