Hermosa Beach, Vandalism to Car and Public Intoxication
Our client, age 54, was in Los Angeles from overseas, where he was employed at an American school as principal. He had meetings to attend to, but not for two days so he ventured down to Hermosa Beach to enjoy the local bars and restaurants.
Summary in 50 Words: Our client, age 52, with a history of alcohol-related convictions, broke off a car's windshield wiper to use as a sword to defend himself from a perceived aggressor. He was arrested for misdemeanor vandalism. Case resolved for public intoxication and three years informal probation, restitution, court fines and booking fee.
For some reason, after having a few drinks and watching some college football bowl games, the client believed someone wanted to fight him. As he was walking to the area for taxis to return to his hotel, he decided to arm himself with the only thing he could find: a windshield wiper, which he pulled off a parked car and swung wildly at those behind him. It was approximately 1:00 a.m. on a Saturday morning.
The next few minutes were a blank for our client. He did not remember what happened at all, but he apparently did get in a fight, as there was a large scrape on the side of his forehead and on his shoulder. This was visible in his booking photograph.
Indeed, Hermosa Beach police officers arrested our client on reports of an older male acting in a bizarre manner. The client spent the evening in a jail cell and emerged in the morning, holding a ticket with a signed promise to appear in the Torrance Courthouse about six weeks later.
Our client had prior experience with misdemeanor cases, as he had two earlier DUI convictions (the most recent being nine years earlier) and a conviction for driving on a license suspended due to a DUI (Vehicle Code § 14601.2). When he signed a promise to appear later, even though he knew he'd be back in Thailand, he understood he could retain an attorney to appear on his behalf while he was thousands of miles away.
The client called Greg Hill & Associates and explained what had happened. He frankly admitted that he blacked out for part of the night and was not sure exactly what happened. Greg explained that the Hermosa Beach cases in the Torrance Courthouse were handled by the Redondo Beach City Prosecutors' office and that in his case, for both public intoxication and vandalism, Greg would try to steer the case away from vandalism because of the drivers' license suspension that was mandatory with a conviction for vandalism.
While the client would be in another country at the time, he would still need to deal with the DMV in having his license reinstated and he would need to file an SR-22 to show proof of insurance. Greg further explained how he believed if the client could attend 20 meetings of Alcoholics Anonymous (AA), the Redondo Beach City Prosecutor may even extend DA diversion for him.
Greg then appeared on the client's behalf for the arraignment and discussed the case with the Redondo Beach City Prosecutor in court. The prosecutor was concerned about this alcohol-related offense, being his third in about fifteen years. Greg also found out the repair estimate and replacement cost of the windshield wiper was $42.80.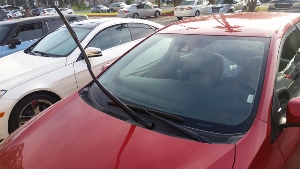 The client did not forward Greg proof of his attending 20 AA meetings, but the prosecutor agreed to dismiss the vandalism charge due to the driver's license suspension issue. Yet the prosecutor was unwilling to offer DA diversion and in fact, mentioned that "a small amount of county jail is probably what he needs."
Greg then explained that the client lived overseas and could not serve county jail time. The prosecutor then agreed to resolve the matter with a plea to public intoxication (Penal Code § 647(f)), with the client being placed on 36 months of summary probation, payment of a $150 fine plus penalties and assessments ($865), payment of restitution to the automobile owner ($42.80) and payment of the Hermosa Beach booking fee ($349).
The client was happy to resolve the case with no jail time and minimal fines.
For more information about vandalism, please click on the following articles:
Contact us.