Hermosa Beach, Urinating in Parking Structure, Infraction
Our client, age 21 for just three months, had been at a bar watching the NBA playoffs. He had drank a few beers and when the game ended, he and his friends decided to head home. It was about 10:45 p.m. Our client was reveling in the novelty of being able to drink legally now that he was 21. Unfortunately, he would soon receive a souvenir of sorts from the evening.
Summary: Hermosa Beach, client issued ticket for violating Penal Code § 372, "Public Nuisance," after police observe him urinating in new concrete parking structure north of Pier Plaza; case resolved for infraction after client attends 30 AA meetings; misdemeanor 372 charge dismissed.

The group headed back to the new multi-level concrete parking structure just north of Pier Plaza. As they got to their car, they decided to instead hit another bar, rather than leave so early.
The group therefore reversed course. Our client, however, could not wait to reach the bar and urinated between two cars in the parking structure. He intended to do so quickly, so he would not have to run too much to catch back up to his group of friends. As his luck would have it, a uniformed Hermosa Beach Police Officer was driving his car through the parking structure, apparently on patrol for this type of conduct, and stopped, just after our client had finished and was walking away.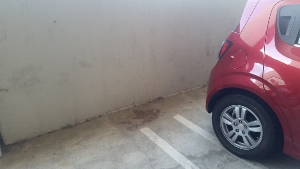 Hermosa Beach Parking Structure

The police officer slammed on his brakes and jumped out of his car, jogging up to our client to issue him a ticket. Our client was shocked to see the zeal in the police officer in issuing such a ticket. The officer was clearly happy to be handing over the ticket and our client, confused, accept the ticket and signed a promise to appear at a date about two months later in the Torrance Superior Court. The client's friends witnessed the whole event, snickering at the police officer in catching such a public menace, as if our client had committed a felony of sorts.
A few weeks later, after the reality of the ticket had sunk in, the client's father called our office, quite concerned about how a misdemeanor would affect his son's future as a fireman, a career his son was pursuing by volunteering each weekend at a fire station in South Central. His son had also taken classes in fire safety at El Camino College and was hoping to become a fireman. This case and a misdemeanor record seemed to jeopardize that dream and render worthless all his time spent volunteering and taking classes at El Camino.
Greg explained to the client's dad that the Hermosa Beach City Prosecutor's office often amended the complaint to allege an infraction violation of Penal Code § 374.3 ("public dumping") if the client attended ten Alcoholics Anonymous (AA) meetings. The prosecutor would often further reduce the fine if the client attended thirty such meetings.
The client's father seemed relieved at hearing this and retained Greg Hill & Associates to defend his son. The client then called Greg Hill & Associates to discuss the case and what he needed to do to avoid a misdemeanor conviction on his record. Greg repeated for the client what he had just told the client's father. Greg then e-mailed the client an AA sign-in sheet and a list of phone numbers and addresses for AA meetings in his area.
The client then did attend all thirty AA meetings before the arraignment and, as Greg hoped, the prosecutor did indeed amend the complaint to allege an infraction violation of Penal Code § 374.3. The fine associated with this was $150, plus penalties and assessments, making the grand total payable to the court $515 (this was based on 2013 penalties and assessments, which have since 2013 increased over the years)..
The client was happy with this resolution, comforted by the fact that he would preserve his hopes of becoming a firearm in the future and that all the classes he had taken and the volunteer hours he had accumulated were not literally pissed away on the ground of the concrete parking structure in Hermosa Beach.
For more information about the issues in this public urination case summary, click on the following articles:
Contact us.