Hermosa Beach, Urinating in Parking Lot, Infraction, $515
In early July, our client walked from his apartment in Hermosa Beach down to Pier Plaza for drinks with friends from college. He was interested in having a beer or two and watching the Dodger game with his friends. It was a lazy Sunday afternoon and Pier Plaza beckoned.
Without All the Details, What Happened?: Client, age 23, caught urinating in public in parking lot in Hermosa Beach; issued citation for a misdemeanor violation of Penal Code § 372; case resolved for infraction and total fine of $515.

After the game ended, he decided to walk home, which was an apartment about ten blocks south toward Redondo Beach. It was about 11:00 p.m. He went out of the bar's back door to the cool night air and felt the urge to urinate. He was standing in the ground-level, old parking lot to the south of Pier Plaza.
He decided to walk over near the rear of Scotty's, where there were a few dumpsters (and ironically, public restrooms on the beach side of the restaurant, but the lighting is poor and the area does not exactly look safe at night). There was a spot between the dumpsters that he thought would give him some privacy from anyone who might look toward him.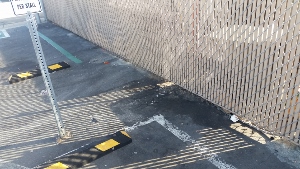 He then urinated in the spot he thought would be secluded from view. After he finished, a Hermosa Beach Police Officer approached him and asked him to approach him. Without even questioning our client, he asked for our client's identification. Confused, our client handed him his driver's license.
Without even telling our client what he had done wrong, the officer then wrote out a ticket for violating Penal Code § 372 ("Public Nuisance"). The client took the ticket without contesting what he had done. The client signed a promise to appear in Torrance Superior Court in about eight weeks. No more than ten words were said between the officer and our client.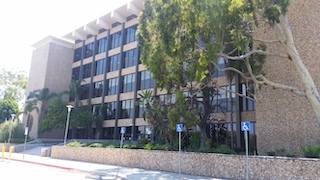 Torrance Courthouse
About three days later, the client called Greg Hill & Associates. Greg and the client discussed what public nuisance was intended to prohibit. The client then explained what the ticket said ("Suspect seen urinating in public") and what had happened. Greg listened to the client explain this and what he wanted, which was to avoid having a misdemeanor on his record. The client was also concerned about being on probation and what that might require, even if it was informal and not formal probation.
Greg recommended that the client attend 30 Alcoholic Anonymous (AA) meetings before the arraignment, which was a further two months away. Greg explained that the Hermosa Beach City Prosecutor would most likely view such attendance at AA meetings favorably and, in response, amend the complaint to allege a violation of Penal Code § 374.3, which is public dumping, or littering, as an infraction only.
The client in fact did attend 30 AA meetings and provided Greg the sign-in sheet prior to the arraignment. Greg then showed the Hermosa Beach City Prosecutor the sign-in sheet and she agreed to amend the complaint to allege an infraction-level violation of Penal Code § 374.3. She agreed to lower the fine to $150, plus penalties and assessments. This fine totaled $515.
The case was then called and the Hermosa Beach City Prosecutor did amend the complaint to allege the infraction while dismissing the misdemeanor charge of violating Penal Code § 372.
The client was happy with this, as he had his first job out of college and was worried about his employer finding out about a misdemeanor on his record, as well as being on probation, even if just informal probation, for two or three years, as employers believe an employee on probation may violate the terms of probation, be arrested by police and then miss work indefinitely, disrupting the business. Some employers are also concerned that police may report to the place of employment in uniform to speak with the employee on probation, causing customers to mistakenly suspect police are investigating the business.
For more information about the issues in this public urination case summary, click on the following articles:
Contact us.