Hermosa Beach, Urinating Behind Bank, $150 Fine, 10 AA's
Our client worked for a local defense contractor as an engineer. He worked long hours and rarely was able to enjoy the local bars and restaurants. He longed for those days in college when he could let off some steam and relax watching a football game with a beer or two. He was 22, so the adjustment to the "real world" was taking place.
Summary: Client ticketed for violating Penal Code § 372 (Misdemeanor) in Hermosa Beach, found urinating behind bank in downtown area, case resolved for infraction and $150 Fine, 10 AA meetings.

As luck would have it, the 2014 World Cup Soccer Tournament began just as he was feeling the need to relax as if still in college. The nostalgic yearning led him to gather together a few friends for an evening of watching international soccer at a Hermosa Beach bar, which they did, with a few beers.
When the game finished and the bar closed, he and his friends made their way back to their respective cars. Along the way, our client felt the urge to urinate. He was near the beginning of Pier Plaza, along Hermosa Avenue, and wisely made the decision to use a cab to get home. While waiting for a cab, he decided to run behind a Chase Bank and pee. There is an area behind the bank where one can hide a bit from the public, especially in the dark, or so our client thought.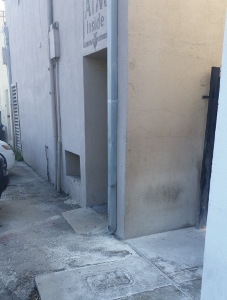 As his luck would have it, an undercover police officer on foot was patrolling nearby, pretending to be engaged in a cell phone conversation. Our client thought nothing of it. After all, police officers are supposed to wear uniforms, right? Our client had to go and the person on the cell phone was a man, so our client figured he would not be offending a female. Perhaps the man on the cell phone would not even notice our client, as the man seemed engrossed in conversation.
After our client finished relieving himself, the police officer approached him and identified himself. He then asked for our client's identification. The officer asked him if he knew what he just did was illegal. Our client apologized and said he knew it was illegal. The police officer then filled out and handed our client a citation for violating Penal Code § 372 ("Public Nuisance"), a misdemeanor. He asked our client to sign a promise to appear on the ticket in the Torrance Superior Court in about six weeks.
The client was in utter shock. He quickly foresaw himself losing his job that he had worked so hard for through college. His employer had made it very clear that no employee should be arrested or face criminal charges (and risk jail time) although the employer did say an infraction, such as for a parking ticket, was not grounds for termination.
He called Greg Hill & Associates the following day. He explained the facts of his case and Greg explained what he thought would happen in court and what the client could do to help minimize the fine. The most important thing was that the client attend 30 Alcoholics Anonymous (AA) meetings prior to the arraignment to give Greg negotiating leverage with the Hermosa Beach City Prosecutor, to not only amend the complaint to allege an infraction, but also to reduce the associated fine to $150, plus penalties and assessments. Hearing that the case could be resolved as an infraction eased the client's employment concerns.
The client retained Greg Hill & Associates and then attended the 30 AA meetings, providing Greg documentation of this for the arraignment.
As hoped, the Hermosa Beach City Prosecutor did in fact amend the complaint to allege an infraction violation of Penal Code § 374.3(a), "Public Dumping" (associated with leaving an old mattress on a sidewalk) and dismissed the misdemeanor in the interest of justice. The fine was also reduced to $150, which was still quite a lot once one adds to this the penalties and assessments of $580.
Regardless, the client was happy for the outcome and his future employment. He happily wrote Greg, "the case turned out exactly how you predicted it would. I'm glad I hired you to help me through this ordeal."
For more information about the issues in this public urination case summary, click on the following articles:
Contact us.