Hermosa Beach, Public Urination, Plea to Infraction, $50
Our client, age 24, held a prestigious engineering job that he had worked extremely hard for, earning a bachelor's degree from a well-respected school and a master's degree as well. However, when his friends from his undergraduate program summoned him to enjoy a few beers in Hermosa Beach, he decided to join them. He felt he had earned a few hours of relaxation.
In 50 Words or Less: Hermosa Beach, public urination, $50 fine plus penalties and assessments, charges reduced from misdemeanor public nuisance (Penal Code § 372) to an infraction-level violation of public dumping (Penal Code § 374.3).

Hours later, near 2:00 a.m., our client was walking to the new parking structure just north of the downtown Pier Plaza area. He knew he had a long drive home from Hermosa Beach and regretted not visiting the men's room before leaving the bar.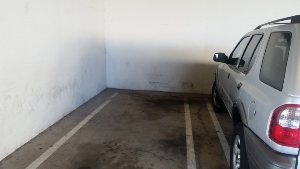 It was too far of a walk back to the bar and he anticipated a rush of people trying to leave the parking structure at just after 2:00 a.m., so he decided to treat the space between two cars in the parking lot as an impromptu men's room.
As soon as our client began urinating, a uniformed Hermosa Beach police officer seemingly popped out of nowhere to write our client a ticket for violating Penal Code § 372 ("public nuisance"), a misdemeanor. Our client's brain began spinning. He thought he may lose his job once the next, periodic background check revealed the conviction. He thought all his hard work and his valuable degrees were literally pissed away.
The client called Greg Hill & Associates and spoke with Greg Hill. Greg listened to the story and recommended that the client attend ten Alcoholics Anonymous (AA) meetings in the hopes that the case could be reduced from a misdemeanor to an infraction. The client, however, wanted a dismissal or even no filing. He also knew that on periodic security reviews at his work, he would be asked if he attended AA, so he did not want to make himself vulnerable to scrutiny by doing so.
Greg suggested then that he could perform community service instead through Habitat for Humanity or Heal the Bay. While such community service is not free, like AA's are, it is often viewed by prosecutors favorably as a reputable form of community service.
The client then performed five days, or 40 hours, of community service through Habitat for Humanity even before the arraignment.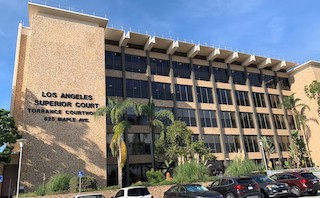 Torrance Courthouse
Greg then wrote a long letter to the Hermosa Beach City Prosecutor, explaining the client's pedigree and how his job could be lost by the mere filing of a misdemeanor complaint against him. Greg also explained how our client had done community service in advance as a token of his regret for his conduct.
Greg then discussed the case several times, both in person and via e-mail with the city prosecutor, trying to avoid a filing. However, the city prosecutor would never commit to any approach on the case and ultimately, one day before the arraignment, advised Greg that she would be filing the case as a misdemeanor. She just could not make an exception for our client, no matter how extraordinary his education was or how strict his job was.
At the arraignment, however, the prosecutor discussed the case again and amended the complaint to allege a violation of Penal Code § 374.3, "public dumping," as an infraction. Public dumping is commonly associated with someone leaving an old mattress or sofa on the curb outside one's home, so it is not a crime commonly associated with irresponsible use of alcohol as public urination definitely is associated. The prosecutor also reduced the fine to just $50, the lowest fine Greg had seen on such a case. With penalties and assessments added to the base fine of $50, the client would owe just over $300 to the Los Angeles Superior Court.
The client was happy that the fine was so small, but still a bit glum that the case was even filed after all he and Greg had done in advance.
For more information about the issues in this public urination case summary, click on the following articles:
Contact us.