Hermosa Beach, Public Nuisance (PC 372) Misdemeanor
Our client was walking back home from a bar in Hermosa Beach when he decided to relieve himself in an alley, where he thought no one could see him. After all, he stepped into the shadows where he intended to be hidden to some degree from the public.
Without All the Details, What Happened?: Hermosa Beach, client arrested for urinating outside house, charged with misdemeanor public urination, case resolved for infraction disturbing the peace.

Just as he began to urinate, a police officer in his car entered the alley. The police car's headlights illuminated our client, making it easy for the police officer to see exactly what our client was doing. The police car was perhaps only thirty feet away. It was a nightmare of sorts for the client.
The police officer issued our client for a misdemeanor violation of Penal Code section 372, urinating in public. The client was asked to sign a promise to appear in the Torrance Superior Court on a date the police officer wrote on the ticket, which he then handed to the client.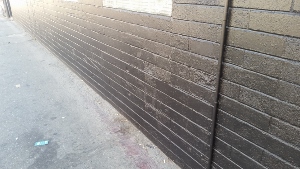 Alleyway Behind Popular Bars in Hermosa Beach
Our client was very concerned about having a conviction on his record, as he was applying for a job with several prestigious companies at the time. He was also worried that being on probation, even if only summary probation, would negatively affect a potential employer's opinion of him.
He was also quite worried about the simple nature of the crime, "public nuisance," which he thought would only lead to questions from an employer about exactly what he did to earn such a conviction.
When the client called us, his anxiety only increased when we advised him that although unusual, a prosecutor can require one convicted of Penal Code section 372 to register as a sex offender under Penal Code section 290. Such registration is a lifetime obligation. However, it is usually not imposed in such cases unless the nature of the public urination is more akin to indecent exposure and the client's primary interest is in the response of others and not simply just urinating, as our client here.
Our office therefore contacted the Hermosa Beach City Prosecutor and explained the circumstances of the arrest, as well as our client's employment situation. It merits mention that since this case, the Hermosa Beach City Prosecutor's office has been closed and the Redondo Beach City Prosecutor's office took over the handling of the Hermosa Beach misdemeanor matters such as this type of case.
The Hermosa Beach City Prosecutor respectfully listened to Greg describe the case and then graciously agreed to resolve the case as an infraction for disturbing the peace (Penal Code section 415), which was good for our client, as once he pay the $100 fine, plus penalties and assessments, his record would be clean once again. In contrast, had he been convicted of a misdemeanor, such a conviction would be on his record for any potential employer to see. In being convicted of a misdemeanor, he also would be obligated to serve time on summary probation.
Our client immediately accepted the plea bargain offered, relieved that his lapse in judgment one night in Hermosa Beach would not have consequences compromising his future employment.
For more information about the issues in this public urination case summary, click on the following articles:
Contact us.