Hermosa Beach, Public Intoxication, Plea to Trespassing
Our client, age 34, was in Los Angeles from Massachusetts for business, but took time to visit a friend who lived in Hermosa Beach. Our client enjoyed this time away from home, as he had two young children and this time in California was time to truly relax.

Our client and his friend went to downtown Hermosa Beach to enjoy the warm weather and have a few beers. After several hours of watching sports and having a few beers, the two somehow became separated. Our client's cell phone battery was dead, so he could not call his friend, but he was not too worried.
Our client believed he could walk back to his friend's home. It was about 1:00 a.m. He walked away from the Pier Plaza area to Sixth Street. He walked up to a house that he thought he recognized as his friend's home. He proceeded to open the door, which was unlocked, and walk into the house. He immediately sat down in a chair and decided he would snooze until his friend returned.
Unfortunately, our client picked the wrong house. The noise of his entering awoke the home owner, who walked into the living room and immediately came face to face with our client. Our client asked, "Who are you?" The homeowner asked our client the same thing. It then dawned on our client that he was in the wrong home and he apologized, quickly got up and walked out, embarrassed and confused.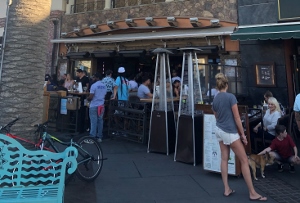 Pier Plaza Area

The homeowner immediately called 911 and the Hermosa Police quickly spotted our client going into another bar nearby. He was then arrested and taken to the Hermosa Beach Police Department, where he was held until about 10:00 a.m. and released on a promise to appear in the Torrance Superior Court in about six weeks.
The client, now sober, was able to find his friend and then returned to Massachusetts on his prearranged flight.
Once back home and back to work, he had the chance to look at his promise to appear and the citation, which was for public intoxication (Penal Code § 647(f)). He called up Greg Hill & Associates and discussed the case with Greg Hill. The client explained that he had two prior DUI's from over ten years earlier, as well as a "drunk in public" conviction from Massachusetts.
Greg explained that such a record would make it difficult to reduce the charge to an infraction or plea bargaining the case to dismissal with some form of diversion. However, Greg explained that often, an out-of-state criminal history is not documented in the prosecutor's file or the client's criminal history. Greg suggested to the client that he attend twenty meetings of Alcoholic Anonymous (AA) prior to the arraignment.
On the day of the arraignment, Greg appeared on the client's behalf with documentation that the client had attended 20 AA meetings. The client remained at work in Massachusetts. Greg was disappointed to see that the client's criminal history reflected his prior DUI's and his prior drunk in public. As perhaps could be expected, the Redondo Beach City Prosecutor (now the Redondo Beach City Prosecutors handle most misdemeanors out of Hermosa Beach) proposed a plea bargain wherein our client would plea "no contest" to a violation of Penal Code § 647(f) and be placed on three years of summary probation, conditioned on payment of a court fine of $300, plus penalties and assessments (totaling $1280) and the Hermosa Beach booking fee of $348.
Greg relayed the offer to the client and explained that he believed a different Redondo Beach City Prosecutor may make a better offer, especially if the client gave Greg proof of his employment status, a resume and proof of any awards he had received.
The client then provided this and Greg took it to court at the next hearing. As Greg hoped, there was a different prosecutor present, who agreed to amend the complaint to allege trespassing (Penal Code § 602(m)), with two years of summary probation and just payment of the Hermosa Beach booking fee. The client accepted this offer, happy that the case was not resolved with a further alcohol-related conviction and with a shorter probation period and no fines.
For more information about public intoxication, please click on the following articles:
Contact us.