Hermosa Beach Public Intoxication, Plea to Penal Code § 415
Our client, age 24, worked in the real estate industry in Tempe, Arizona. He was a big guy who enjoyed a beer or two. He was in town for a real estate convention and went down to Hermosa Beach with some colleagues from the convention.
After an hour or two, he lost contact with his colleagues and became a bit panicked. He was standing in the Pier Plaza area outside American Graffiti and looked to the north side of Pier Plaza, where he thought he saw his friends up on the upper level balcony of Tower 12, another bar. He then went over there, but the bar would not let him in, as it was quite full.
Our client then decided to climb up to the second-story balcony from below. As he was climbing up, he lost his grip and fell back down, onto a table at Café Bonaparte, breaking the table. Our client was not injured, but a Hermosa Beach Police Officer witnessed the fall and asked our client to pay the owner of Café Bonaparte (located below Tower 12) for the broken table, which our client did.
The officer then left and wished our client a safe evening.
Three hours later, our client was in the Underground Bar about 100 yards away from Tower 12. Police were called to the bar because our client was apparently yelling at other bar patrons to leave.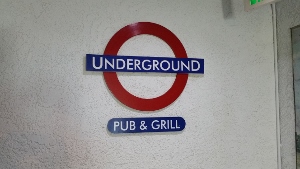 Underground Pub Hermosa Beach

As coincidence would have it, the same officer who reported to the Underground was the same officer who helped our client up from his broken table incident at Café Bonaparte / Tower 12 some three hours later. He recognized our client immediately and could see our client was quite drunk.
He was arrested and taken to the Hermosa Beach Police Station for violating Penal Code § 647(f), public intoxication. As the reader of this summary may know, to violate this code section, one does not need to be just drunk, which can be legal. Instead, one must be so drunk or intoxicated due to alcohol or drugs that one is: 1) unable to care for one's own safety or well-being, i.e. defecating in one's pants, vomiting on oneself, etc.; or 2) obstructing a public thoroughfare, i.e. walking down the middle of a busy street, sleeping on a sidewalk and getting in the way of others.
Here, our client was not really doing either of these things.
The client then called Greg Hill & Associates and spoke with Greg Hill. The two discussed the facts of the case and how his conduct appeared to be really more of just disturbing the peace.
Greg suggested that the client attend ten Alcoholics Anonymous (AA) meetings before the arraignment and give him proof of his attending these.
Greg Hill then appeared for the arraignment in the Torrance Superior Court, with documentary proof that our client had attended ten AA meetings, and looked over the police report handed to him by the Redondo Beach City Prosecutor, who handles cases in Hermosa Beach.
The client was charged with a violation of Penal Code § 647(f), public intoxication, and the prosecutor's initial offer was that our client would have to enter a plea bargain to violating 647(f) and be placed on three years of informal probation, with an obligation to pay the Hermosa Beach booking fee ($358), pay court fees of $150, plus penalties and assessments ($750 approximately), attending ten AA meetings and stay away from the Underground Bar for three years.
Greg commented that it appeared the client really had done nothing more than disturb the peace. His conduct did not seem to fit the charges of public intoxication. The Redondo Beach City Prosecutor was reluctant to agree, exclaiming "but he broke a table! That is serious!"

Greg calmly responded that yes, that apparently did happen, but there was nothing to indicate it took place because of the client's intoxication level and there was nothing to suggest it would not have taken place if he was sober. After all, he simply lost his grip while trying to climb up to the Tower 12 balcony, something that could happen to a sober person, too.
The Redondo Beach City Prosecutor reluctantly agreed, and Greg suggested the case be resolved for disturbing the peace (Penal Code § 415(2), making a loud noise). The Redondo Beach City Prosecutor agreed, but for a misdemeanor, with one year of informal probation and an obligation for our client to pay the Hermosa Beach booking fee ($358), stay away from the Underground Bar for a year and attend ten AA meetings, which he had already done.
The resolution was good for our client insofar as it avoided the stigma of having an alcohol-related conviction on his record.
For more information about public intoxication, please click on the following articles:
Contact us.