Hermosa Beach Public Intoxication Case, 26 AA's, Dismissed
Our client, age 36, liked to drink beer. Unfortunately, he liked it a bit too much, especially in the last few years because he had three separate citations for public intoxication in three different cities.
In the first two cases, he was fortunate to avoid a conviction. In the first case, in 2016, in San Luis Obispo, he received a delayed entry of plea and then the case was dismissed. In his second case, in 2017, in South Pasadena, the case was dismissed after he performed forty hours of community service.
His third case arose in 2020 in Hermosa Beach. He had been drinking at one or more of the bar / restaurants on Pier Plaza and found himself over near Good Stuff, which is at the corner of Pier Avenue and Cedar and Hermosa Avenue, just a short ways from the Pier Plaza.
The 911 call stated our client was throwing small rocks at a parked Tesla. Police arrived and immediately arrested him, as they could see he was extremely intoxicated. The Tesla owner said he had never met our client and did not know why he was trying to damage his car. He told police his car was not damaged.
When asked why he was throwing rocks at the Tesla, our client allegedly gave incoherent answers. The police report then described him as "too drunk to be booked," but he was in fact booked. The police report also reported that he tested positive for nitrous oxide ("laughing gas"), but our client said he had never used this in his life and he did not give a blood sample. He was just drunk from alcohol.
Regardless, after being held in the Hermosa Beach jail for about ten hours, he was released the following morning with a promise to appear in the Torrance Courthouse about three months later.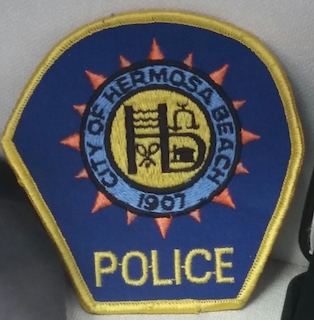 Hermosa Beach PD Patch
He called up Greg Hill & Associates and explained what had happened. The client explained that he had two prior alcohol-related incidents in the past few years, so he was concerned his "luck might run out" on diversion-type deals. Greg agreed that this was an issue, so Greg recommended that the client attend at least ten Alcoholics Anonymous (AA) meetings prior to the arraignment and to give Greg an attendance record / sign-in sheet, although his attendance would only be through Zoom meetings due to the Covid-19 pandemic.
Greg also explained how such cases were historically handled by the Redondo Beach City Prosecutors' Office now that the City of Hermosa Beach had eliminated the Hermosa Beach City Prosecutor position. Greg explained that the Redondo Beach City Prosecutors often offer a plea bargain to the defendant that obligates the defendant to make a $550 plus "contribution" to the Hermosa Beach Nuisance Abatement Fund (to pay for new bathrooms and better lighting nearby), payment of the Hermosa Beach Police Department booking fee ($359 in 2021) and perhaps some community service (20 to 40 hours) for a reduction of the misdemeanor Penal Code § 647(f) public intoxication charge to an infraction for disturbing the peace. These were onerous consequences, but to avoid a conviction for a misdemeanor was important for the client.
The client then in fact did attend ten AA meetings and gave Greg his AA sign-in sheet to take to the arraignment at the Torrance Superior Court.
Greg then appeared on the client's behalf and reviewed the police report and the initial offer, which was that the client plea to a misdemeanor Penal Code § 647(f) charge, be placed on three years of informal (summary) probation, payment of a $300 court fee, plus penalties and assessments (total about $1,100) and an order to stay away from Good Stuff in Hermosa Beach for three years. Greg read into the offer, although it was not noted in writing, that the Redondo Beach City Prosecutor's Office was aware of the client's prior two public intoxication cases and were unwilling to offer diversion a third time.
Nonetheless, Greg decided to try for a far better deal that the deal offer, so he first showed the Redondo Beach City Prosecutor that our client had attended ten AA meetings.
Remarkably, the Redondo Beach City Prosecutor responded with "have him do sixteen more, for 26 total and we will dismiss."
This offer was far better than even Greg had imagined or discussed with the client, who gladly accepted this and attended sixteen more such meetings to earn the dismissal.
For more information about some of the issues mentioned in this summary, please click on the following articles: