Hermosa Beach, Public Intoxication, Broken Window in Home
Our client, age 29, was in town from Tucson visiting friends. He went down to the Pier Plaza area near the Hermosa Beach Pier and had quite a few drinks with his friends.
The plan was to hit a few bars and then walk back to his friend's house together close to midnight.
Our client remembered being in Baja Sharkeez, but no other place, although the group did visit two or three bars. At some point, he and his friend became separated and our client decided to just walk back to his friend's house on Pacific Coast Highway.

It was about 11:30 p.m. when our client began the long walk from the Pier Plaza area back up to Pacific Coast Highway and then north on PCH. The two had walked down to the Pier Plaza area when it was light out and hours later, when our client was walking back alone, things looked quite different.
He arrived at a house that he thought was his friend's and knocked at the door. No one answered, so he walked around the side of the house to tap on his friend's bedroom window. In doing so, his tapping broke the fragile window of the house that was not his friend's home. The homeowner, awoken by the breaking glass, yelled at our client to get away and called the Hermosa Beach Police Department.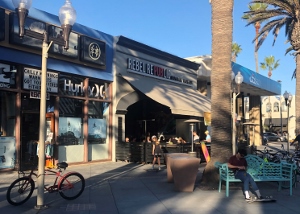 Hermosa Beach Pier Plaza

Police arrived at the scene as our client was walking away from the house and arrested him almost immediately. They realized that our client was just a drunk guy looking for his friend and had not committed an attempted residential burglary (Penal Code §§ 664/459). They took our client to the Hermosa Beach Police Department and arrested him for public intoxication (Penal Code § 647(f)). It was just before midnight.
Our client was extremely nervous about being arrested. He had a prior DUI from Arizona eleven years earlier and was currently facing an "extreme BAC" DUI in Arizona. He assumed he would be held for a long time because bail would be set high or even denied.
Luckily, this did not happen, and he was released about eight hours later after he had "dried out." Our client's friend also found him at the police station, so that was good.
Once back in Arizona, the client called Greg Hill & Associates and spoke to Greg Hill about his case. He explained what had happened and his concerns with his prior alcohol-related cases.
Greg explained how he thought the Redondo Beach City Prosecutor's Office might handle the case, which was to deny diversion and hold our client to a conviction for violating Penal Code § 647(f), but on relatively gentle terms including payment of restitution to the homeowner for the window, payment of a booking fee, attendance at 20 or so Alcoholics Anonymous (AA) meetings and payment of the booking fees.
The client asked if he could attend the AA meetings in advance of the arraignment and Greg welcomed the idea, as it would help show the prosecutor that the client was taking steps to better understand his alcohol issues. The client then did attend 20 AA meetings and provided Greg proof of this to take with him to the arraignment.
At the arraignment, the Redondo Beach City Prosecutor's officer looked at the case as quite serious due to the broken window and reminded Greg that "your client is lucky he was not charged with residential burglary or trespass." Greg understood the possible charges that could have been filed and agreed that public intoxication was most fitting, as our client did not have the intent to enter the home without the owner's consent, had no intent to commit a felony (any crime) therein and did not even know he was at the incorrect home.
The prosecutor also commented upon our client's pending "extreme BAC" DUI in Arizona, but said she would not consider that a conviction, as it was still pending.
The prosecutor was pleased with the client's 20 AA meetings attended and reduced her offer from a fine of $300 plus penalties and assessments to $150 plus penalties and assessments, but as expected, did hold tightly to wanting a conviction for violating Penal Code § 647(f), payment of the booking fee ($358) and payment of restitution.
The plea bargain was exactly what Greg had predicted and with the client spending time in custody before midnight and then after midnight, he received credit for two days in custody reducing his total fines owed to just $220.
The client was happy with the resolution, feeling lucky that he avoided any jail time and only had to pay minimal fines.
For more information about public intoxication and related issues, please click on the following articles:
Contact us.