Hermosa Beach, Public Intoxication and Public Urination
Our client, age 28, had moved out to California from upstate New York, graduating from a well-known four-year university there. He took one visit out to California, however, and realized upstate New York was no match from Southern California. He loved the Hermosa Beach area and got a job nearby managing a retirement home.
One night, he had two or three beers and then went down to Sharkeez, a popular bar/restaurant on the Hermosa Beach Pier Plaza. He consumed more drinks at Sharkeez and enjoyed the atmosphere there.

At about 1:45 a.m. he left Sharkeez to get an Uber home. He went out the back door of Sharkeez and realized he needed to urinate, so he found an area near some large trash containers behind American Junkie (which is next to Sharkeez) that he believed would be somewhat obscured from public view.
A passing Hermosa Beach police officer noticed our client urinating there and stopped him. The officer told him it was illegal to urinate in public, so he began issuing him a ticket for a violation of Penal Code § 372 ("Public Nuisance"). The officer asked for our client's identification and our client allegedly handed him a credit card. The police officer returned the credit card and asked for our client's driver's license. The client again handed him his credit card.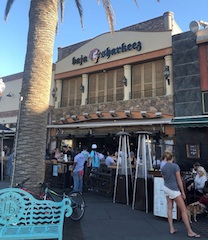 Baja Sharkeez Hermosa Beach
This back-and-forth exchange of a credit card went on one more time, making the police officer suspect that our client was too intoxicated by alcohol and/or drugs to care for his own safety and well-being. This meant he met the requirements of violating Penal Code § 647(f), public intoxication. To verify the officer's suspicions, he asked our client what day of the week it was and our client allegedly could not answer the question.
The officer concluded our client was confused and too drunk to be allowed to continue walking around the downtown area.
The officer then arrested our client for public intoxication and took him to the Hermosa Beach Police Station, where our client was booked and spent the next eight hours in the jail, before being released just before noon on his own recognizance (no bail was required to be posted) after he signed a promise to appear in the Torrance court in about two months.
Once he got home and realized what had happened, he called Greg Hill & Associates. He spoke with Greg Hill and described what had happened. He asked what would happen. Greg explained how he thought the case would resolve if the client attended ten or more Alcoholics Anonymous (AA) meetings prior to the arraignment and gave his AA attendance sheet to Greg to take to show the prosecutor at the arraignment.
Greg said he thought the prosecutor would see the AA meetings attended and offer our client a plea to an infraction-level violation of Penal Code § 415(2) ("disturbing the peace") once the client paid the Hermosa Beach booking fee and made a $550 "donation" to the Hermosa Beach nuisance abatement fund.
The day for the arraignment later arrived and our client had not attended any AA meetings.
Greg went to court, fearing that the plea bargain to resolve the case would involve our client pleading to a misdemeanor, which would be fatal for our client's employment future.
However, the Redondo Beach City Prosecutor kindly did offer our client an infraction-level plea for a violation of Penal Code § 415(2), "disturbing the peace," if he first paid the Hermosa Beach booking fee, made a $550 "donation" to the Hermosa Beach nuisance abatement fund and paid a $10 court fine, plus penalties and assessments (total about $180).
The client was quite happy with this offer and agreed to make the various payments required to plea to the infraction. The two misdemeanor charges would then be dismissed.

Our office then accepted a payment from the client and went to the Hermosa Beach Finance Office and paid the booking fee and made the nuisance abatement fund "donation."
Greg then went to the court and paid the $10 court fine, plus penalties and assessments.
The Redondo Beach City Prosecutor, good to her word, then amended the complaint to add the 415(2) infraction, to which our client pled no contest, and the two misdemeanor charges were dismissed.

For more information about public intoxication, public urination and the issues in this case, please click on the following articles: