Hermosa Beach, Peeing in Alley, PC 372, Plea to Infraction
Our client, age 24 and with no prior criminal history, was given a citation by a Hermosa Beach Police Officer, who caught our client urinating in a dark alley near the public parking structure north of the Pier Plaza.
Without All the Details, What Happened?: Hermosa Beach, client caught urinating in downtown alley, charged with violating PC § 372 ("public nuisance"), prosecutor amends complaint to allege "unlawful dumping" (PC § 374.3(a)) as infraction.

Our client had been out at several Hermosa Beach bars with friends and had been drinking. As is not uncommon, he did not feel the need to urinate until he found himself in colder weather and after the bars had all closed.
Once he realized that he needed to find a bathroom, he went back to the bars, trying to be let in to use the restroom. None of the bars would allow him back in. He looked around for public restrooms and saw none – not even a porta potty.
We lament this situation in Hermosa Beach because there are public restrooms at the end of Pier Plaza across from Hennessey's Tavern. There are about six stalls for men and the same number for women. While the area used to be a hangout for drug users and gay men seeking a meeting inside the restroom, it is now cleaner, with better lighting and much safer. However, there are no signs directing people to the restrooms and even if there were such signs, any public restroom may seem dangerous after dark.
In this case, our client resigned himself to urinating where he would hopefully not be seen. As he was "going about his business" in the alley, a police car pulled around a corner, shining its headlight directly onto our client as he was zipping up his pants. The wall in front of him was marked by a wet spot. Our client was deeply embarrassed.
The officer told our client, "don't go anywhere" and our client obeyed. The officer told him, matter of factly, that urinating in public was illegal and that he had to write him a ticket. The client was not arrested. He was handed a ticket with a citation for violating Penal Code § 372 ("Public Nuisance") and asked to sign on a line on the ticket as a promise to appear in the Torrance Superior Court on a future date, specified on the ticket.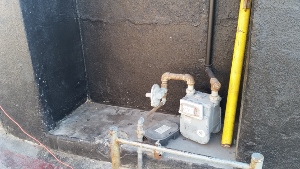 Alley Behind the Bars in Hermosa Beach
The client then called Greg Hill, who recommended that the client attend ten AA meetings and write a short autobiography. The client did both of these things and gave Greg the AA sign in sheet, as well as the short autobiography.
At the arraignment, which was one of the first ever for the new Hermosa Beach City Prosecutor, Greg asked for a reduction of charges to an infraction-level violation of disturbing the peace (Penal Code § 415), with a fine of $50 or $100, plus penalties and assessments. This was the standard punishment in the past with the longtime Hermosa Beach City Prosecutor, who had recently retired.
The new prosecutor said she wanted "to clean up Hermosa Beach," so she would not follow such customs. Instead, she wanted our client to plead to a misdemeanor violation of Penal Code § 374.3(a) ("Public Dumping"), with a $300 fine, plus penalties and assessments (which would total close to $1400)! Public dumping is most commonly associated with leaving an old sofa or mattress on a sidewalk.
Greg then showed the prosecutor the 10 AA meeting sign-in sheet and the autobiography of the client. The prosecutor then reluctantly agreed to reduce the offense to an infraction violation of § 374.3(a), and with a $150 fine.
While the fine was more than what was anticipated, at least based on the last ten years of custom for such cases in Hermosa Beach, our client was happy to avoid probation (if he had pleaded to a misdemeanor) by pleading to an infraction, which he could expunge from his record in just a year.
For more information about the issues in this public urination case summary, click on the following articles:
Contact us.