Hermosa Beach, Misdemeanor Public Urination, Infraction
Our client was returning to the parking lot for his car after an evening of drinking in Hermosa Beach down near the Pier Plaza. Age 23 and a recent U.S.C. graduate, he had just eaten some pizza with his friends. He was walking across the ground-level parking lot just south of Pier Plaza when he realized he needed to urinate.
Without All the Details, What Happened?: Client given ticket for violating Penal Code § 372 ("Public Nuisance"), a misdemeanor, after Hermosa Beach police officer allegedly sees him urinating in public, case resolved for infraction and fine.

It was after 2:00 a.m., so all the bars were closed. He could not go back to one and ask to enter to use the restroom. Moreover, he was not aware of the public bathrooms near the pier (and even if he were aware of these, he may not want to use these because they were not well lighted). So he found a small bush near a wall, quite close to where the taxis pick up people and near the ATM machines, and decided to relieve himself.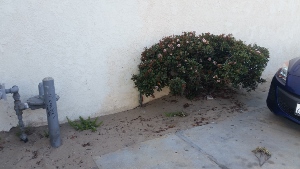 Just as he started to urinate, a police officer approached him and asked him to stop. Our client, embarrassed to be caught in the act, complied. The officer then asked our client for his identification so he could write our client a ticket.
The officer then handed our client a ticket for violation of Penal Code § 372, Public Nuisance. The ticket marked the level of the offense as a misdemeanor.
The client called our office, concerned because he was on probation for a wet reckless (a conviction of violating Vehicle Code § 23103 pursuant to § 23103.5) in Ventura County and was worried this misdemeanor out of Hermosa Beach would cause him to be found in violation of probation. This was a valid concern, especially because the public nuisance matter was alcohol related, just like the wet reckless.
Greg spoke with the client and assured him that he did not think his status as a probationer would be noticed by the Hermosa Beach City Prosecutor, mostly because the probation was out of another county. However, occasionally, the prosecutor would notice this type of thing.
He also explained that he believed that if the client attended 30 Alcoholics Anonymous (AA) meetings prior to the arraignment, the prosecutor would most likely amend the complaint to add a charge of violating Penal Code § 374.3 ("public dumping," as in an old mattress or sofa on the sidewalk) as an infraction. The prosecutor would then dismiss the misdemeanor charge and allow our client to enter a plea to violating 374.3, with punishment of a $150 fine, plus penalties and assessments (total due would be $720). This was based upon Greg's experience in seeing this happen in other cases.
The client felt much better and retained Greg Hill & Associates to defend him. Greg gave the client a form to have initialed at each AA meeting and a list of phone numbers of the places that offered AA meetings.
The client then did his part, attending thirty AA meetings as Greg suggested. Greg then appeared at the arraignment and showed the prosecutor the sign-in sheet for the thirty AA meetings. The prosecutor indeed did not run our client's criminal history, so luckily, she was not aware of his status as a probationer. She then offered to amend the complaint to allege a violation of Penal Code § 374.3 as an infraction. She also offered to resolve the case for a $150 fine. Greg accepted this on the client's behalf.
The client was very happy, writing "you rock!" in his e-mail in response to the resolution of the action. "It turned out exactly as you said it would" he added.
For more information about the issues in this public urination case summary, click on the following articles:
Contact us.