Hermosa Beach DUI, Age 21, 0.18% BAC, 3-Month DUI Class
The Gist of this Article: Hermosa Beach DUI wherein the traffic stop of our client was impossible to have complied with California law. Client had 0.18% BAC. Case resolved with a three-month DUI program and otherwise minimum terms.

Our client, age 21, was out at the Underground Bar in Hermosa Beach with a long-time friend from high school. They had played football together in high school and then went off to respectable four-year colleges on the East Coast. Each had graduated in four years and had moved back to California, temporarily living at home while trying to find a job.
Before picking up his friend to head down to Hermosa Beach, our client drank a beer and smoked some marijuana. It was Saturday night, so our client and his friend wanted to indulge a bit, knowing they could sleep in the following morning if necessary.
The two then went to the Underground and, over the next three hours, split two pitchers of an IPA beer, meaning each had four or five strong beers. They watched some late-night football and relaxed.

At close to 1:00 a.m., the two agreed to return home to Palos Verdes. Our client and his friend went to our client's car and drove out the alley from behind the Underground onto Pier Avenue, turning left to the east to head up to Pacific Coast Highway and then head south to Palos Verdes.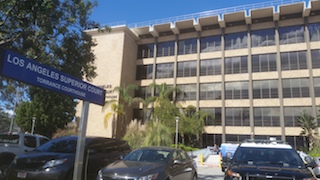 Torrance Courthouse
Neither our client nor his friend noticed that a Hermosa Beach Police Officer was hanging out in his car right outside the Underground and watched our client and his friend walk to our client's car and get in. The officer admitted to the client later that he then followed our client as he drove onto Pier Avenue.
According to the police officer, our client was weaving back and forth into oncoming traffic and failed to come to a complete stop behind the limit line at two stop signs.
We always find such claims by the police worthy of further scrutiny. It is well-established law under People v. Perez (1985) 221 Cal.Rptr. 776, at 778, that the officer must observe "pronounced swerving of more than six inches into the adjacent lane" to make a legal traffic stop. Here, our client could not cross the center divider and drive into oncoming traffic because parts of Pier Avenue have a raised, concrete center divider. Moreover, at each stop sign at issue, there is a cross-walk and Hermosa Beach is a bustling place at 1:00 a.m., so our client would have been more careful than usual to stop before the limit line at each stop sign to avoid hitting any pedestrians crossing once he yielded to the stop sign.

Indeed, a police officer may not make a traffic stop unless he observes a Vehicle Code violation. Whren v. United States (1996) 517 U.S. 806. It is tough to understand, moreover, how a police officer located well behind our client could view the location of the front of our client's bumper being over the stop sign limit line. Even if such driving were deemed unusual, an officer may not make a traffic stop simply based upon unusual driving. Taylor v. DMV (1995) 36 Cal.App.4th 812 (the officer's subjective belief that a suspect's driving is unusual is insufficient to support a traffic stop). It's not a violation of any law unless the conduct affects the safety of others. People v. Carmona (2011) 195 Cal.App.4th 1385.
Nonetheless, our client was stopped once he turned right on Pacific Coast Highway. He was then arrested and taken into the Hermosa Beach Police Station, where he gave a blood sample that was measured at 0.18% blood alcohol content (BAC) and found to be positive for cannabinoids. The client refused a breath test at the scene, as if his right, but did admit to officers that he and his friend polished off two pitchers of IPA beer at the Underground.
Once the client was released the following morning, after spending about ten hours in the Hermosa Beach jail, the client and his father called Greg Hill & Associates. The father explained what had happened to his son and asked what Greg Hill & Associates could do to help him.
Greg explained how the blood alcohol content (BAC) would most likely be above the legal limit, given the client's description of having consumed two pitchers of IPA beer with his friend. Greg estimated that the client's BAC would be at least 0.14% and maybe higher.
Greg then explained to the client and his father how such cases are generally resolved in the Torrance Courthouse and how the Redondo Beach City Prosecutor's office generally tries to resolve the cases early.
At the arraignment, Greg appeared on behalf of the client (the client stayed at work) and discussed the case with the Redondo Beach City Prosecutor. The blood test results showed our client had a 0.18% BAC, but the Redondo Beach City Prosecutor allowed Greg to describe a bit about the client, his graduation from a prestigious Division 2 school in Virginia (where he played on the varsity football team) and his employment situation.
She agreed to resolve the case with the client on minimum terms, including just a three-month alcohol awareness program (AB541), rather than the nine-month program usually reserved for those with a BAC above 0.15%, as well as other standard DUI terms of a $390 fine plus penalties and assessments (the client was given a $125 credit toward the base fine, reducing his overall fees and fines by about $500 once penalties and assessments were considered), and an obligation to attend the Mothers Against Drunk Driving (MADD) Victim Impact Panel, a two-hour class.
The client was extremely pleased with this resolution, as he not only avoided over six months of extra classes (with a saving of tuition of about $750), but he was spared the inconvenience of driving to and from alcohol awareness classes for six extra months. With his beginning a new career, he did not want to dilute his time with DUI classes that he could otherwise spend on advancing his career and being present in the office.
For more information about DUI, please click on the following articles: