Hermosa Beach, Client Urinated Inside Restaurant by Kitchen
Our client, just thirty-four days past his twenty-first birthday, went to Rebel Republic in Hermosa Beach on Pier Plaza, next to the Chase Bank. He was enjoying the warm summer air and more than a few beers. He was a college student home for the summer and finally able to legally drink, so he went to Hermosa Beach.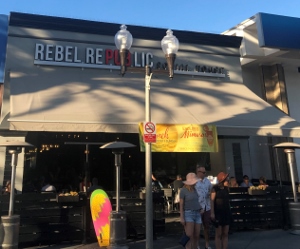 Rebel Republic in Hermosa Beach
As is common with most folks after a few beers, he got up to use the restroom. The restroom, however, was being used and he waited for a few minutes, but no one came out. Finally, our client just decided to urinate right on the floor outside the restroom, which was coincidentally right near the entrance to the restaurant's kitchen.
Just as he was urinating, a restaurant server saw this happening and called the Hermosa Beach police. A uniformed police officer was on foot, patrolling the Pier Plaza area nearby, as there are many other bards nearby and it is not uncommon for alcohol-impaired incidents to take place. He entered the restaurant within two minutes and found our client still standing near the puddle on the restaurant floor.
Upon seeing the officer, our client became anxious he was going to be arrested. He reportedly told the officer, "I'm sorry. I'm sorry. I will pay the ticket. I just could not hold it in." The officer, seeing our client was cooperative and respectful, simply cited him for public urination (in Hermosa Beach, the ticket is for public nuisance, Penal Code § 372), although he certainly could have cited him for public intoxication (Penal Code § 647(f)).
Public intoxication would have probably fit the facts more accurately, as our client was so intoxicated that he was unable to care for his own well-being or that of others by urinating inside a restaurant on the floor near a highly traveled area, the entry and exit area for the kitchen. The urine on the floor was a slipping hazard, as well as creating an odor.
Despite this, the officer just ticketed our client for public nuisance for urinating as he did. The client signed the ticket, promising to appear in the Torrance Courthouse a few weeks later.

The client, being just 21, had no prior criminal history and really did not know what a misdemeanor was. He did what many others his age do when in need of information: he went online and used Google to read about the ticket and Penal Code § 372.
He called up Greg Hill & Associates shortly thereafter and spoke with Greg. The client asked if there was any chance he would have to register as a sex offender under Penal Code § 290. Greg answered that this would not be required, given the facts of his situation (which the client described as his urinating behind the Chase Bank).
Greg then explained how such tickets from Hermosa Beach are typically handled by the Redondo Beach City Prosecutor's Office. Greg described how such misdemeanors are often reduced to an infraction with a $550 "contribution" to the Hermosa Beach Nuisance Abatement fund at the Hermosa Beach Treasurer's Office and a court fine of $10, plus penalties and assessments that can boost the total owed to approximately $150.
Greg further recommended that the client attend ten Alcoholics Anonymous (AA) meetings prior to the arraignment and that he give Greg proof of having attending such meeting for Greg to take with him to the arraignment.
The client then hired Greg Hill & Associates and Greg later appeared at the arraignment in the Torrance Superior Court. The client did attend ten AA meetings and gave Greg proof of this to take to court. The client stayed at home, as Greg could appear on his behalf under Penal Code § 977(a).
Greg then met with the Redondo Beach City Prosecutor at the Torrance Courthouse. She read the police report and commented that this case was much more than just a typical public urination case of someone peeing in an alley. Moreover, she noticed how our client had only been twenty-one years old for 34 days at the time of the incident.
Nonetheless, she considered our client's apology to the police and his ten AA meetings attended. She graciously agreed to offer a reduction to an infraction if our client made the "donation" of $550 to the Hermosa Beach Nuisance Abatement Fund. In light of his AA meetings attended, the prosecutor waived the court fines and fees, which saved him about $150.
Greg then advised the client of this offer and the facts. The client did not know he had urinated inside Rebel Republic. He was apparently blacked out, sadly.
The client accepted the prosecutor's deal, relieved that his misdemeanor was being dropped to an infraction, as being convicted of a misdemeanor otherwise would place him on informal probation for two or three years, which would not be good for him in searching for employment upon graduation from college in a year.
For more information about public urination, please click on the following articles:
Contact us.