Hermosa Beach, Charge of Public Nuisance, Plea to Infraction
Our client emerged from a Hermosa Beach bar just before 2:00 a.m., intent on making it back to the new parking structure to the north of the Hermosa Beach Pier before the surge of others leaving the bars at closing time, 2:00 a.m.
Synopsis: Client caught urinating in Hermosa Beach alley, charged with violating Penal Code § 372 ("public nuisance"), case resolved for infraction for disturbing the peace (Penal Code § 415(2)), no probation and misdemeanor dismissed.

He grew up in the area, but was in town while on Christmas break from a Midwest university. He was 21 and eager to finally enjoy the Hermosa Beach bars that he had seen so many others enjoy, but he was unable due to being under 21 years old. Now 21, he could do so, legally.
This evening, he did enjoy the bars and his plan to leave before others was smart. His intentions were good, but his execution of his plan left one detail overlooked. He forgot to use the men's room before leaving on his way to the parking lot. This became an urgent issue as he walked towards his parked car through an alley, so he stopped to urinate near a light pole. It was in a lighted area, but the client figured he would only be seen urinating for twenty or thirty seconds. What could go wrong?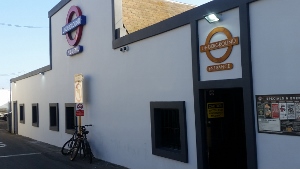 Outside a Local Bar in Hermosa Beach
No sooner than he began urinating than a Hermosa Beach Police Officer turned into the alley, in his car with his spotlight on, illuminating our client.
Our client was quite embarrassed, so he turned his back to the police car and tried to zip up his pants quickly. The wet mark, however, on the light pole and ground gave him away.
The police officer parked the car and asked for our client's driver's license. He then wrote out a ticket and handed him it for misdemeanor public nuisance (Penal Code § 372). The officer then had our client sign a promise to appear in the Torrance Superior Court in about two months or else be arraigned the following Monday or Tuesday after spending a few nights in the Hermosa Beach jail. Our client signed the promise to appear, fearful of spending any time in jail with a bunch of drunks and perhaps a few people amped up on drugs, eager to fight.
Our client was extremely distraught because he was in the process of applying to several graduate programs and feared the arrest and probable conviction for a misdemeanor would ruin his chances for admission to a graduate program.
Greg spoke with the client, listened to the facts, explained the law and recommended that the client attend ten meetings of Alcoholics Anonymous (AA). This would demonstrate that he was taking steps to better understand responsible consumption of alcohol. Greg further stressed it was important to get the initials of the program facilitator on a log in sheet to document his attendance at such meetings. The plan was to show the Hermosa Beach City Prosecutor the client's efforts to negotiate a plea bargain to an infraction.
Since late 2012, the Hermosa Beach City Prosecutor had been willing to negotiate plea bargains for cases involving public nuisance (Penal Code § 372), a misdemeanor, to an infraction for public dumping (Penal Code § 374.3) or sometimes an infraction for disturbing the peace (Pena Code § 415(2). However, our client expressed concern that such a conviction would hurt his ability to rent an apartment or condominium in the future if a landlord did a background check, which most do. This would seem to be true for a plea bargain to public dumping.
So, Greg sought a plea bargain to an infraction for disturbing the peace for loud music (Penal Code § 415(2)), which may also alarm a landlord, but can be more readily explained as a one-time, youthful indiscretion. The Hermosa Beach City Prosecutor agreed to the deal, but set the fine at a rather steep $250, plus penalties and assessments, which would total approximately $1,300.
Nevertheless, the client was relieved to avoid a conviction for a misdemeanor and happy to avoid being on probation, which surely would concern any employer.
For more information about the issues in this public urination case summary, click on the following articles:
Contact us.